Which is the Best Investment in India?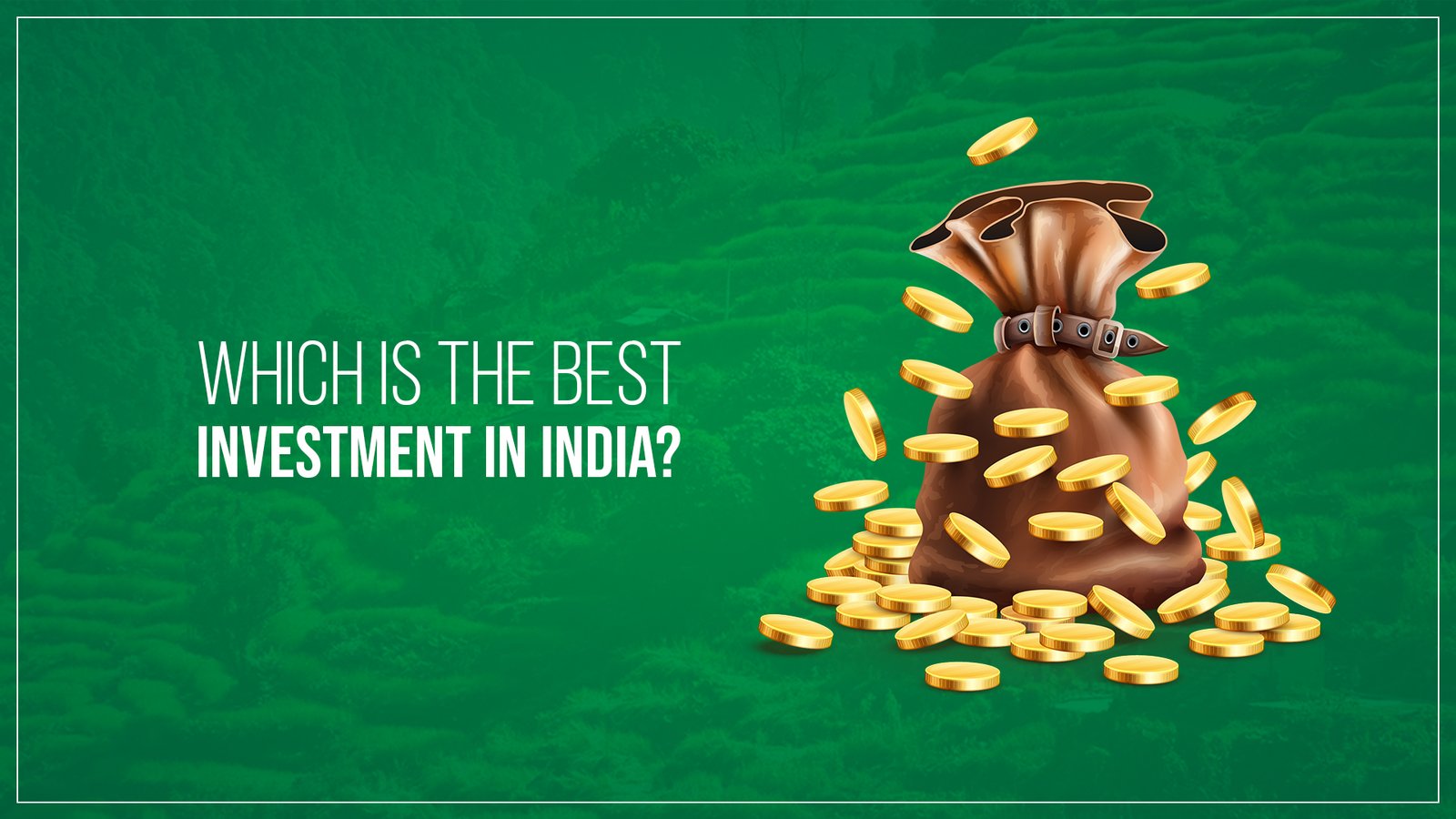 This is a question asked and searched by millions of Indians and it has been asked so many times, enough to be qualified as a F.A.Q (Frequently Asked Questions). There are many answers with which this question is answered with, but before we get to that, let's just talk about why, how and what made you get here.
What we all work hard for.
Most of the people reading this blog are people working at someplace or the other – what do you all work for? Those endless hours and efforts are spent on only one thing, that thing that governs the entire world – MONEY. Making an investment needs a person to be in the same place as you are; the space for the financially settled and looking to spend the money on effectively.
SAVINGS Vs INVESTMENT
This is a difference that not many are familiar with.
What is a saving? What is an investment? How are these two important?
In simple words, Savings is that money that you save up for short term purposes. For example – we save up to buy a new Television, a Car, etc. This is mostly effective for short term goals as mentioned in the examples.
Whereas, investments usually involves us spending money on something that will work for us and yield us more money for the longer run. This includes Real estate, Mutual Funds, Post Office and Bank Deposits, etc.
People don't make a lot of mistakes while saving up, but make a lot, while selecting the best ways to invest – especially in a vast, diverse country like India.
Traditional ways of Investment
When the word investment pops up, these would be the first suggestions that you'll hear from all around. These modes of investment have been done 'traditionally' for years together now, but aren't as effective as they were a few years ago.
To understand why, let's get to a bit more details.
The costs of living and investment is on a constantly increasing trend, increasing at a rate of 15 – 20% per annum. Thus, the perfect investment should make up to the increasing cost of living. With this in our minds, let us look over the numbers of certain common and traditional ways to invest in India.
i. Deposits
This is the first thing that comes to mind when we have some money to spare – deposit in a bank or at a deposit in the post office. The appreciation of investment with deposits is at a rate around 7 – 8 % per annum. ii. Gold
Again, one of the most common ways to invest on, in India. If we look at the scenario in the past years, from 2009, gold has increased in value by two times. This means, there is a rate of appreciation at around 10% per annum. Moreover, there are losses incurred during purchase and sales – 15% for wastage and making charges respectively. This means that there's only 70% growth on gold investment in the last decade, somewhere around 7% per annum only.
One thing that was common between both is that the both wouldn't suffice for the escalating costs of 15 – 20% per annum.
Other common investments are Mutual Funds which are subject to market risk and it needs in depth knowledge for one to play safe. Most charming Real estate investment had done good between 2000 and 2015 but due to the global economic slowdown it seems not attractive now a days.
This section of the blog could bring in many apprehensions and questions in your mind. What could a wise man do?
What can a common individual invest on?
The best investment in India
Let's go on to answer your question. The best way to invest your hard and wisely earned money is surprisingly on Real estate, but in a different way that not many know about.
"Just a paragraph ago we were told that Real estate investments are subjected to risks and isn't a great choice of investment in the current day's scenario"
What if we tell you that there's something awesome about real estate?
Let's take our magnifying glass, and play Sherlock Holmes, looking with a more detailed perspective onto real estate. If you look close enough, you can see that there's so much to real estate that could change your perspective about it. Among all these details lies the answer to the question that's in subject.
The answer to real estate is Hill station real estate – a niche that we, at Hills & Wills, a premium property management company are experts at.
What is so good about Hill Station Real Estate?
Proper hill station real estate could be one of the best options for investment in India – you can be an NRI or a Resident Indian, hill station real estate has something advantageous to you.
Here are some of the best things about hill station real estate.
1. Great value of property
To begin with, hill station properties are of high value because of their high demand in society and limited availability. Good properties are very hard to come by – they are either owned by generations of the same family, or the sold out really quickly. DON'T judge the hill station properties based on the ones that are displayed in Property Portals which are mostly listed with the motive of liquidation and monetization for their financial urgency. Thus, if you are able to get hold of a premium property at the best parts of the hill-town, with the perfect views and climate and of immaculate condition, call it your lucky day. By the best investment, we mean investing on Premium properties of this sort.
2. Great appreciation of value
The demand for hill station properties is always on an increasing trend. This is because, the life of the modern man is stressful – he rather is stressing out than living. More and more people want to visit, and take short breaks on a hill station for stress relief and rejuvenation like something culturally followed in the western countries. The demand, thus, keeps increasing, and so does the value of your investment in the hill stations.
3. Attractive Agriculture Revenue
Revenue out of real estate is simple to figure out. You let it out, and get rent for it. But regularity, consistency and high value of rental isn't something that is available in all parts of the plains. This isn't the case with hill station property, because, like mentioned in the previous point, the demand for hill station property for boarding and lodging is always on the increase because the tourism in the hill stations is increasing with time. Higher numbers of people flock to hill stations, thus high possibilities to rent out your hill station property and get revenue out of it to make up for the big investment that you've made.
Agriculture revenue plays another important role in hill station realty since they are tax free. Cultivation in hill station is different from that of plains where you don't get water or electricity or both. In hill station it is mostly nature oriented cultivation and it is free from both of these constraints. Venturing into such businesses would definitely be an asset to your life-you can contribute to the declining agriculture of the country as well as make the best of your hill station investment.
4. A great place to retire
The title speaks for itself and more – whether you retire full time, or retire part-time (on a vacation) hill stations are the best places to go to in India. This is because of the much more pleasant climate, views, the fresh air, Low AQI and better quality of air and so much more. While these vacations could be costly because of high prices of rentals, and difficult to plan because of the low availability of good places to stay at, owning a property in the hills would be like going to your home away from your home.
Compelled to buy property in hill station? This day can't be luckier for you.
We BET you are, you are a smart person after – all, because you didn't trust the word-of-mouth stories about the best option for an investment and decided to do your part of the research to find out yourself. For the smarter crowd like you, this blog would've made a lot of sense.
Something that went amiss (purposefully) in the body of the blog was the fact that, hill station realty is a tough market – the space is really restricted by local laws and the government restricting a lot of people from buying hill station property. Another factor that may give you certain apprehensions about buying hill station property is that, the difficulty in selection of the perfect property to match all your needs – not all people are experts like we are.
This is why today is your lucky day.
Because, Hills & Wills is a premium property management company exclusive to major South Indian hill stations – in words other than the standard definition to what we are, we are a group of agriculturists, engineers, architects, real estate experts and passionate travellers, who, with our vast experience from extensive time spent in staying and travelling the hills help people like you with minds alike to fulfil their aspirations of living in their favourite hill station – Ooty, Kodaikanal, and where not.
How we do that?
With seamless hill station real estate services such as property buying and property selling in hill station, along with unmatched after sales services such as property monitoring, renovation, , we take you through the process, making sure that you take only the right steps and invest in the best way- Buy hill station properties.
Your life in the hills is what we aspire too! Make the best investment in India; buy properties in hill stations with Hills & Wills.
Looking for Buy Property in Kodaikanal?