Darjeeling
6,700 Feet Altitude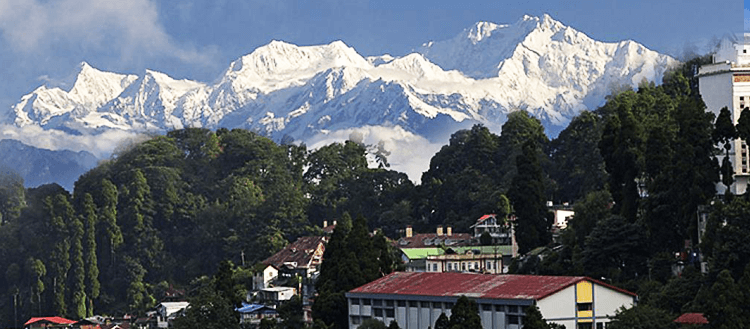 Why to live in Darjeeling
The awe-inspiring view of mighty peaks of the Himalayas, mesmerising sight of India's tallest peak Kanchenjunga with varying colours during different times of a day, snow clad slopes on one side with ornate tea gardens on the other, Darjeeling (also spelled Darjiling) easily wrests the honour as the 'The Queen of Hills' and it is also known as 'The Land of Thunderbolt' due to its etymological origin from the concatenation of the Tibetan word 'Dorje' which means Lord Indra's thunderbolt sceptre.
Darjeeling is situated at an altitude of 2,042 metres in lower Himalayan range and nestled between Tibet, Bhutan, Nepal and West Bengal. The summer temperature oscillates between a maximum of 25°C in daytime to 10°C in nights, wherein winters register 19°C at day with nights freezing at 1°C or just below that.
With diverse culture, religion, traditions and communities like Anglo Indians, Bengalis, Nepalese, Tibetans living in harmony and without much snow fall, Darjeeling is one of the safe, enjoyable, comfortable, all weather hill station and can be accorded the fame as the darling of a hill station in West Bengal. So, a house for sale in Darjeeling finds many buyers among the tourists willing to be domiciled in the hill station.
---
Buying & Rental Trends in Darjeeling
With numerous century old British era schools and boarding institutions like St.Paul's School, Mount Hermon School, St. Joseph's School and Loreto Convent, Darjeeling is the educational hub in North East India. In addition, Darjeeling is famous for mountaineering institutes like Himalayan Mountaineering Institute - One of the top in the world. The educational centres of excellence have a special position in Darjeeling though its tea estates that encompass most of the region. If anyone post property Ad online for sale or rent around these institutions, they get multiple offers in no time. The rental value and property price of house, bungalow, villa, flat, plot, farm house in Darjeeling is lower while comparing Kolkata.
Home to multi-ethnic and diverse groups, Darjeeling is the most popular tourist destination as a hill station in eastern part of India. With no stipulated restrictions on buying properties in Darjeeling, the place is a real estate bathed in nature's glory of all kinds. The land appreciation value gallops fast every year and the investment made in Darjeeling real state pays rich dividends in future. A property in Darjeeling is visualized as the realty vaunt of the high fliers relishing hill station properties.
---
Economy of Darjeeling
Tourism, Agriculture and Education are the pillars of Darjeeling economy. With unique tourist attractions like world's third tallest peak's awesome panoramic view, Sun rise in Tiger hills, India's first mountain railway and UNESCO world heritage site of Darjeeling Himalayan Railway, Asia's largest and India's first rope car way - Darjeeling Rangit Valley Ropeway, adventure sports like river rafting, rock garden and Batasia loop where the toy train takes 360° turn, Darjeeling's principal economy is Tourism. Darjeeling is one of the top destinations in India searched online by prospective tourists around the world according to surveys due to which finding a commercial property in Darjeeling is always a tough job.
Tea plantations have played no less a pivotal role in the development of the region since 1841 when it was introduced and cultivated here by the British. The appropriate climatic conditions enable the tea leaves to acquire a distinct flavour and are a much appreciated beverage variety among the tea lovers around the world with the geography indicator. Darjeeling has the pride of producing about 7% of India's total tea output and prices of its tea variety are on par with other international flavours. Discovering a property for sale in Darjeeling in the top localities is always on the wish list of the people valuing personal space and spending quality time.
---
Why to invest in Darjeeling
Residents of Kolkata form the major share of property buyers in Darjeeling. The stranglehold of congestion in the eastern metropolis has led people to inhabit Darjeeling for a brief period at the peak of summer every year. Ranging from vintage to contemporary, each property has a good resale value in the town. Darjeeling occupies an envious place in West Bengal real estate and there is steady demand to buy properties in Darjeeling while it is just a matter of click to sell Darjeeling property online.
Being the unique hill station with the view of Mount Everest and Kanchenjunga peaks, the prime doorway to the Dooars region and the adventure sports & nature lover's paradise, the tourist attraction and related business opportunities are ever increasing. Darjeeling is a splendid hill station to invest by any nouveau riche who has made their bounty in the recent years, riding high on the post-recession period. Eying every land for sale in Darjeeling, these people are rarely hesitant about the property prices.
With State government's proposed 'Comprehensive Darjeeling Development Plan' with focus on creation of pollution-free Darjeeling and development of agriculture, tourism, industry in Darjeeling and Government of India's initiatives for infrastructure development in Darjeeling, Investment in Darjeeling is one of the wise decisions in Indian real estate market.