Idukki
2500 - 8843 Feet Altitude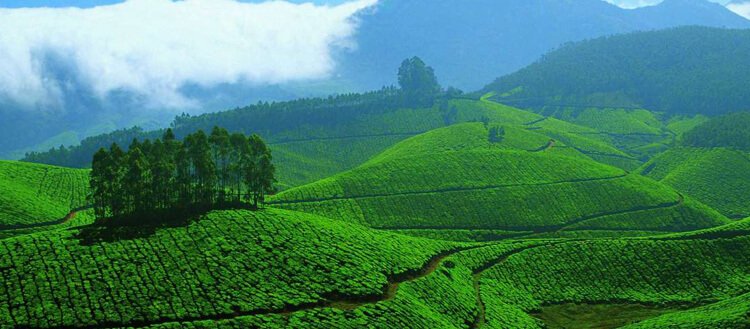 Why to live in Idukki
A beguiling hill station with an aroma of spices in the chill wind often referred to as 'Spice garden of the Queen State of Spices - Kerala' where Nature at its best and pristine form - Idukki - No wonder in calling it as the "The Queen of the God's own country"
Idukki altitude ranges between 2500 feet at Kulamavu to 5000 feet in Munnar above sea level. The highest peak in the south of Himalayas, Anaimudi is located in Idukki at a height of 8841 feet. In the highlands of Idukki, the lowest temperate during winter normally in single digit and occasionally drops down to subzero, during such time it gets snowfall and that is how Munnar in Idukki is called the 'Kashmir of South India'
Idukki is visually enchanting and a peculiar hilly region with 97% of its geography covered by forest and hills with 15 peaks over 6000 feet altitude. During winter, the mountains in Idukki are covered with mist making the place look magical. It goes without saying that, Idukki is rich in flora, fauna, waterfalls, wildlife sanctuaries, river valleys and dams - Asia's largest arch dam is located in Idukki. It is the second largest district in terms of area. However, its population density is the lowest. This has brought Idukki to the limelight in the times of the Pandemic as a safe heaven.
---
Buying & Rental Trends in Idukki
Next to Munnar, Thekkady and Vagamon are Idukki's popular real estate destinations. Though there are different categories of property for sale in Idukki like houses, gated community villas, bungalows, farmhouses, heritage buildings, cottages and wooden homes, only independent houses for sale in Idukki are on demand. In Idukki, the average cost per Sq ft of a villa ranges between Rs. 2500 to Rs. 5000 depending on the location, extent of land, type of construction, etc.
There is a wide range of estates available in Idukki right from a variety of spices to tea and from tiny to hundreds of acres at different budgets depending on the crops, view and location. When it comes to commercial property, homestay and resorts are available occasionally.
Thodupuzha, Kattappana, Kumily, Kuttikkanam, Adimali, Nedumkandum are the other places of significance from a real estate perspective. The average rental prices of Idukki for an independent house are in the range of Rs. 5500/- to 25000/- depending on the BHK, location and access.
---
Economy of Idukki
The economy of Idukki is reliant on industries namely agriculture, tourism and hydro-electric power generation. Idukki district has numerous hydroelectric power generation plants and 80% of Kerala's electricity is produced from here only.
Great variety spices like Cardamom, Cinnamon, Pepper, Cloves, Nutmeg, Turmeric, Bay Leaf are cultivated on a large scale - Idukki is the largest producer of Cardamom, Pepper and Tea in Kerala. Other crops grown widely in the district are Coffee, Sandalwood and Rubber. At least 10% of the people in Idukki are estate workers and are engaged in crop and animal husbandry.
Idukki is quite a popular tourist district with multiple hill stations and scenic beauty, viewpoints, waterfalls, picturesque locations and famous for camping, trekking, wildlife photography, bird watching, tree houses, tent houses, honeymoon, picnic and rejuvenating stays. Next to hydroelectricity and agriculture, the hospitality industry is the backbone of the Idukki economy.
---
Why to invest in Idukki?
Kerala is one among the few states blessed with abundance of nature and called 'God's own country'. It is interesting to note that Kerala had recorded the highest tourists count in a period of 24 years in 2019, performed well in attracting tourists and foreign exchange earnings (FEE). Idukki alone fetched foreign exchange revenue close to Rs. 4000 crores! The efforts of the state government to position Idukki as a vacation retreat is said to be the reason behind this growth and also increased search of land for sale in Idukki.
Although the current Pandemic situation has made things uncertain, due to the least population and higher social distancing lifestyle, the real estate in Idukki is poising for a sharp growth in the near future. People believe investment in Idukki could get them triple benefits like a summer home, social distancing life when required and attractive agricultural revenue. Understanding this potential, very few post property for sale in Idukki despite of their financial need.