Gudalur
3517 Feet Altitude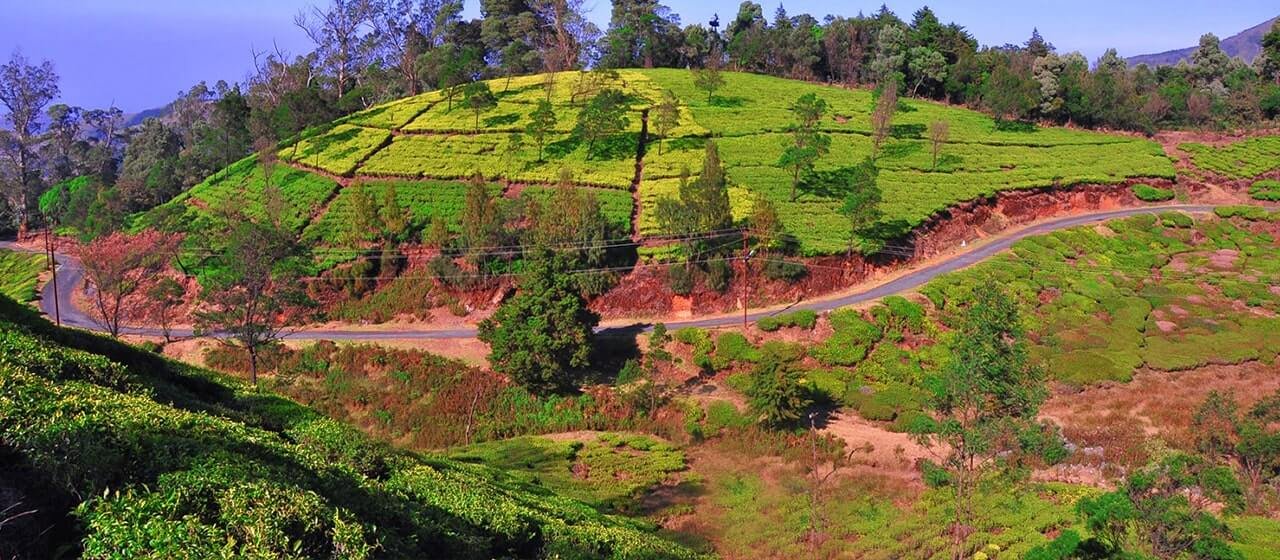 Why to live in Gudalur
The long and winding ghat road with tall enchanting eucalyptus and conifers on both side allowing only partial sunlight and the altitude of the place making it extremely cool and the air laced with aromas of the forest…..leading to a special town "Gudalur"
The warmth and chillness of Gudalur welcomes you to its strategic location
Close to the Queen of Hills Ooty
It is a satellite town for both Mysore in Karnataka and Ooty itself –Satellite towns are common in plains but it is very rare in hills
Intersection of three roads, converging from three different states of Karnataka, Tamil Nadu and Kerala – Juncture of 3 States
Located at an altitude of 1072 m above sea level and you can be assured of a magical climate spruced with good monsoon rains – both the south west monsoons between June to August which brings in 75% of the rainfall and the North east monsoon during October and November and some rain even during the summer months. So it doesn't come as a surprise to have "Devala" - a small location in Gudalur which is known as the "Chirapunji of the South" owing to its heavy rainfall.
The magic of the place is brought alive by the fact that Mudumalai Wildlife sanctuary is its neighbour, and the places like Needle Rock, Tropical Gene Pool with the world's second largest butterfly collection are some place you would want to cherish.
---
Buying & Rental Trends in Gudalur
Though the floating population from three states to this tri-juncture town is ever increasing for business or tourism, rental rate of properties in Gudalur i.e. independent house, villa, apartment and farmhouse are affordable but not much available to offer for rent.
Though buying and selling has been dominated by the locals, Gudalur realty being poised for becoming a Investment destination, and the rising demand for hill station properties in Gudalur, the time has opened for investors and second home seekers in secluded and there have been many buyers seeking to become part of this enchanting Nilgiri town. The demand for residential plot, agricultural land, estate and commercial property is on increasing trend recent time.
Gudalur is less commercialized and property rate is less than all other major Nilgiri hill stations like Ooty, Coonoor and Kotagiri.
---
Economy of Gudalur
The ever growing demand for good tea, and the increasing number of tea lovers across the world has put Gudalur on the map of a vast tea cultivation destination. Though tea has always been grown here, the rising demand has catapulted the economy based on this.
On higher altitudes of the region, coffee, pepper, cardamom is cultivated and betel nut plus other hill crops on the lower altitudes are also a strong source of revenue.
Just as in the other big towns of the Nilgiris, cottage industries producing eucalyptus oil, marinated fruits and other herbs are also in vogue. The surrounding forest areas are also popular for teak and rosewood production. Tourism and real estate in Gudalur are growing industries and the additional source of revenue
---
Why to invest in Gudalur
First of all, Gudalur become the most preferred choice of Bangalore IT professional and business men for week end relaxation, summer vacation and investment for the following reasons
Bangalore once popularly known for its cool climate, now lost its charm and become hot in summer due to fast urbanization.
Gudalur is the nearest hill station to Bangalore and 52 Km before Ooty – No need to touch the Ooty traffic in summer and just 3 - 4 hrs drive from Bangalore
Property prices in Gudalur is cheaper than Ooty and Bangalore
Advantages of the serenity, cool temperatures, low population density and an option to be part of the thriving tea cultivation and other expanding agricultural income.
Gudalur being the satellite town of two major towns Ooty and Mysore, the infrastructure development in and around it is gaining momentum.
Due to the location advantage at the tri-juncture of three states, it is a major market place in Nilgiri and ever growing. There is plenty of scope for the development of business based trade and tourism in the valleys of Gudalur.
Gudalur is very close to Masinagudi, the very secluded tourist destination on the foot hills of the Ooty hills, which is quite popular among people who prefer a quiet few days of rejuvenation in the ample number of forest resorts right in the heart of the dense forests with trekking and night rides, which indirectly adds to the investors benefits who want to promote tourism and settling down in Gudalur.
Being a part of this magical locale is for the privileged few. Real estate in Gudalur is a nascent market and right time for investors. An economy that is driven by the ever increasing market directly accelerates the real estate of a place as is happening in Gudalur.