Chikmagalur
3580 Feet Altitude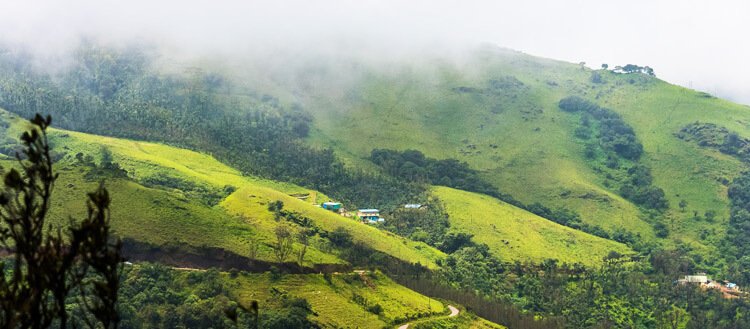 Why to live in Chikmagalur
Bestowed with an eclectic range of nature's beauties in vast expanses interspersed with lush mountains, deep ravines, copious rainfall and endearing coffee estates, Chikmagalur is rightly known as the 'Land of Coffee' - The birthplace of coffee in India.
The precise synonym of Chikmagalur is 'The Town of the Younger Daughter' and the pleasant climate awash with silver oaks filled greenery at an elevation of 1,090 metres above mean sea level is a nature's boon. Chikmagalur's climate varies between moderate to cool with summer temperatures in the range of 25 - 32°C and winter temperatures are recorded between 11 - 20°C.
Chikmagalur constitutes a part of Malenadu region in Karnataka and has the Yagachi river in close proximity that later unites with the Hemavathi river. Home to some of unexplored thick forest areas, valleys and cascades, real estate in Chikmagalur has high value of appreciation due to the demand from Bangalore denizens.
---
Buying & Rental Trends in Chikmagalur
To lead a life in sync and perfect harmony with nature, prospective buyers go all out to check about a house for sale in Chikmagalur. The nearby jungles and waterfalls with streams winding down the woods make this hill station a dream destination to buy or rent properties. The coffee plantations are being slightly interwoven with residential properties to gratify the obsession of tourists to stay and experience nature in the unspoilt wilderness and a villa in Chikmagalurat these environments is the most preferred choice of an investor.
Holiday homes or second homes in Chikmagalur are the best asset to own for people residing in major cities of Karnataka. The hitherto unchartered valleys and forests have attracted tourists in droves to visit the hill station in the stressful digital era. Traditional magazines and dailies aside, Chikmagalur's beauty has been popularized by the social media by travellers and trekkers who besiege the place for mountain climbing. A property for sale in Chikmagalur peripheral areas bordering the forests and on river banks records more search in online portals.
---
Economy of Chikmagalur
Multiple and perennial rivers like Tunga, Bhadra, Hemavathi, Vedavathi and Netravati originate in Chikmagalur district. With ample water source and fertile soil, this region is a paradise for agriculture which is the traditional economy here with rice, ragi, maize along other cereals cultivated on large stretches but Coffee is the back bone of it. Agricultural land for sale in Chikmagalur is the fulcrum of its real estate sector.
The town mints its money from the sale of coffee beans extracted from the Robusta variety plantations in higher altitudes and Arabica in lower altitudes across its length and breadth. Out of 15000 coffee growers in the region, 90% owns smaller estates with less than 10 Acres of land each which offers the economic insight of the place and how livelihood sustenance is dependent on the coffee plantations. Whenever they want to liquidate a coffee estate in Chikmagalur, they do it at ease by just post property ad for free online which is considered to be a greater advantage.
Tourism has also developed leaps and bounds with tourists even outside Karnataka preferring to camp in the coffee estates and jungles to enjoy the detachment of job strings and work pressure. Apart from many families, corporate are undertaking trips to the hill station to encourage rejuvenation of body and mind for their employees.
---
Why to invest in Chikmagalur
While Karnataka is the undisputed leader of Coffee production in India with more than 70% share, Chikmagalur is the second largest coffee producer next to Coorg. The global demand for coffee and it price is ever increasing and Indian investors always keep an eye on Coffee estate for sale in Chikmagalur due to its high yield characteristic.
Investing in a Chikmagalur property accomplishes the twin objective of owning a property for personal use and renting it out when unoccupied by the owner. With weekend vacationing in the hill station witnessing a definite trend, it results in the periodical escalation of the property rates in Chikmagalur where famous hill stations like Kemmangundi and Kudremukh are located. A massive proportion of the properties in Chikmagalur receive interests from the professionals employed in the IT industry of the state.
With religious places of extraordinary architecture and spots of tourist importance, travellers find it convenient to stay in Chikmagalur and visit the nearby areas. It propels the tourism and hospitality sector which leads to high demand for resorts and commercial property for sale in Chikmagalur. It has become a flair among many to invest in hill station properties, not only to enjoy the summer and vacations but to demonstrate their social status among their family and business circle and they know it is also quite easy to sell property online in Chikmagalur while comparing to cities at plains.