Siliguri
460 Feet Altitude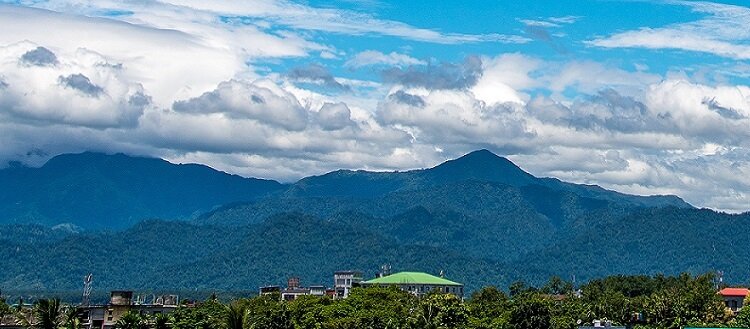 Why to live in Siliguri
Surrounded by dense forest, snow clad mountain peaks, spellbinding tourist attractions, talkativerivers and thriving green hills, the strategic location of Siliguri justify its fame as the 'Gateway of Northeast India' in addition to known as a popular hill station - itnot only holds immense importance for connecting the north eastern parts of the country with rest of the nation but also connectsto access borders of China, Nepal, Bhutan and Bangladesh.
Flanked by the river Mahananda at an altitude of only 140 meter from the mean sea level, Siliguri holds the third place in the list of large urban agglomerations in West Bengal. The unification of its twin city New Jalpaiguri, located 35 kilometres away would elevate the status of Siliguri as a large metropolis in the northern region of West Bengal.
Falling in the humid subtropical climate, the monsoons in Siliguri are quite severe with shining day time temperatures at 32°C in the day to a pleasing 20°C at night. In the coldest months the temperature is around only 16°C during day and cools down to 5°C at night. Real estate in Siliguri is observing intensified activity with an influx of people from other parts of Bengal due to its scenic beauty and its warm weather which is a precursor to Darjeeling's chillness.
---
Buying & Rental Trends in Siliguri
Dating back to the colonial era with a recorded population of just 6,037 in the year 1931, Siliguri has come a long way with many finding their permanent abode heredue to its strategic location, related economical growths and a house for sale in Siliguri online Ad always finds immediate buyers not only from west Bengal but also from different states. The development of many industries in the city has made buying a property in Siliguri offering the dual edge of dwelling in a hill station with a good profession.
The Himalayan range in the backdrop with a fabulous collection of flora and fauna in the nature's wilderness at close proximity has awed the tourists and turned them into city's residents. A property for sale in Siliguri very easily gets booked at the earliest owing to the quality of life with easy commutation through rail, road and air.
Siliguri is known for its standard of education and IT job openings in this region due to which there is a consistent demand for house or flat for rent in Siliguri. Similarly being the financial capital of North Bengal region and offering unlimited business opportunities, a commercial property or shop for rent in Siliguri is always a hot cake in its real estate sector with tenants in queue.
---
Economy of Siliguri
The three T's of Siliguri – tea, tourism and timber are the main trunk of the city's economy. The fourth T with relatively with brisk business potential is the transport sector. The city's location as the vital entry point for other states in the north east signifies its phenomenal value as the connectivity hub and a thriving commercial centre in the north of West Bengal.FOCIN – Federation of Chamber and Commerce and Industry of North Bengal is headquartered in Siliguri which underlines the city's huge economic prospects in the region.
The tea industry has spawned a large populace of workers who occupy the region for generations and they were originally responsible for the expansion of Siliguri economy. Due to the excellent climate for high quality tea production and its attractive revenue, it is rare to find land for sale in Siliguri region. Establishing new vistas and setting new trends in handicrafts, there is consistent demand for handicrafts made by native artisans using cane, bamboo, jute and jute which is promoted by eco-sensitive customers. A flat for sale in Siliguri immediately finds interest from the prosperous next generation of workers from the workers of both tea and handicraft industries.
Generally hill stations are with less population density while Siliguri is exceptional with huge population and multipleattractions (social, geographical, economical)that is the reason its real estate is really on upbeat mode. It is evident from the recent time increase in post property Ad for free by the property owners on property portals and quick sale of them.
---
Why to invest in Siliguri
The exceptional importance given by the state and central governments towards the infrastructure development of Siliguri in the recent times is not only for its strategic location or defence importance but also for exploring its inherent economical potential due to its unique advantage of being a hill station with high population and skilled resources. This led to sudden property appreciation in this region and many property owners in Siliguri try to sell property online making use of this opportunity but without knowing the fact that it could fetch many folds higher value in next few years.
Siliguri is one of the fastest growing economies of this region and referred as the commercial capital of the north Bengal region. Its real estate sector is in a transformation stage with great growth aspects in the near future and it is the right time for investing in residential and commercial property in Siliguri asthe property price in Siliguri at present is very low comparing to Kolkata real estate. The wealthy from other parts of north eastern India evince interest in mostly buying a plot or flat in Siliguri as it is the gated way for them to rest of India and has ever increasing tourism related businesses.
Internationally acclaimed hill stations like Darjeeling and Gangtok have their arterial road connectivity through Siliguri. A decent percentage of companies and organizations with a nation-wide presence have their branches established in Siliguri and many others have marked their space with future plans. The tea industry further up the hills in Darjeeling continues to boom and is a major generator of jobs for the locals. All these influence the builders and promoters across the country to invest here and when they post property ad for sale they immediately bag the attention of property hunters.