Kolli Hills
4300 Feet Altitude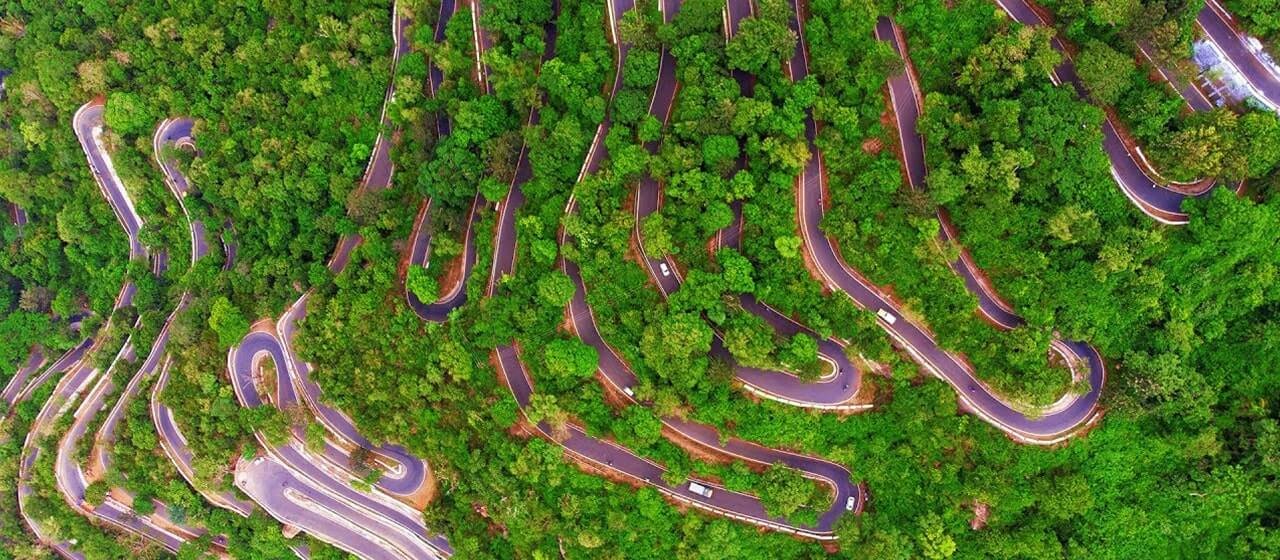 Why to live in Kolli Hills
A fascinating historic hill station with misty mountains, foggy waterfalls, evergreen forests and magnificent views but not yet tainted by commercial tourism - "Kolli Hills", got the name form the Goddess Kolli Paavai
It is a small hill range located at an altitude of 1300 m above sea level on the Eastern Ghats near Namakkal in central Tamilnadu also known as "Kolli Malai" and ruled by the famous King Valvil Ori, one of the seven great philanthropists mentioned in the ancient Tamil poetries.
Kolli hills enjoy a annual shower of more than 1450 mm. Its winter season falls between December and February with a lowest temperature of around 15oC. The maximum temperature in summer rarely goes beyond 30oC.
Among the total geographical area, 44% are reserve forests, 51.6% are agricultural lands showcasing its natural scenic beauty to the world luring numerous tourists not only for visit but ignites the mind of many dream home seekers to dwell here enjoying the bliss of serenity. Agaya Gangai Waterfalls, Masilla falls, and Namma Falls, Arapaleeswarar Temple, Ettukai Amman Temple, Botanical Garden, Tampcol Medicinal Farm and Siddhar Caves are the top tourist attraction of Kolli Hills.
---
Buying & Rental Trends in Trends
Properties in Kolli hills are affordable. Mostly, Independent houses, residential plots, Villas and farm houses are available for rent or buying. Moreover, as agriculture is the predominant industry, many Agricultural lands are available for sale in Kolli Hills. kolli hills property rates depend on various other factors such as locality, amenities and age of the property.
Being the prominent hill station with fascinating tourist spots and a peaceful neighborhood there are many justifiable factors to rent or buy a property in Kolli Hills boosting the real estate in Kolli hills. Sometimes, you may be lucky to get an individual house or villa for rent with a property price for just 10,000/- INR.
Apartments style living and commercial properties are rare here.
---
Economy in Kolli Hills
Unlike other hill stations, Agriculture is the major occupation of the people of kolli Hills yielding more revenue than the Tourism industry. Due to the natural beauties and pleasant climate filled with basic amenities, real estate grown recently contributing to the economy of Kolli Hills.
The revenue yielding crops apart from Paddy cultivation are fruit crops such as Cassava, pineapple, banana including pumpkin and jackfruit, coffee plantations and spices such as black pepper.
Rich cultural heritage and relief from urban livelihood instigating home seekers head towards Kolli Hills for a permanent settlement impacting the growth of the real estate.
---
Why to invest in Kolli hills
It is a rare hill station with wide range of herbs availability and known for it across the globe. It is cash crops wherever you see in Kolli hills especially black pepper and one of the biggest market for it across the country. Perennial water resources flourishing the land making the soil fertile is the most important factor for it being the heaven for agriculture investors.
For many decades there was only one access to this hill station form Namakkal but recently a new road opened from the other side of the hills made the connectivity with eastern and northern part of Tamilnadu much easier. In addition it opened the growth opportunity for the hills station villages on that route.
Home seekers, who are in constant search to buy a property in a hill with an independent and healthy lifestyle, pin Kolli Hills as their destination. The pollution free environment helps them to breathe pure. These mindsets of people seeking a permanent settlement in Kolli Hills are the promising factors for realties to see a profitable business.
NRIs are in the constant hunt for destinations to invest their hard earned money that adds value to the assets in future making a best investment in India for an attracting ROI. After careful analysis, NRIs land in Kolli Hills to fix their dream land to buy property.
Properties are available at affordable prices, providing opportunities for agriculture and farming due to the nutrient rich soil. Due to these factors the real estate in Kolli Hills witnesses a boom period in recent years.
One of the unexploited hill station with lively nature and heritage
Property rates cheaper than the hill stations in Western Ghats
Moderate weather and most suitable for retirement life than any other hill station
One of the hill station with more fertile land and heaven of agriculture investors
World renowned market for Herbs, Black Pepper, Cadman and trading opportunity
Less cost of living than any other hill station in South India
Recent new road connectivity from Authur the other side of hill station
The nearest hill station to the eastern and central Tamilnadu