Nainital
6837 Feet Altitude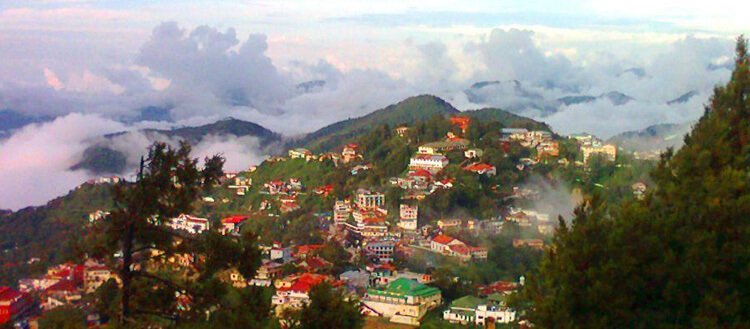 Why to live in Nainital
One of the Indian hill stations with perfect European appeal with multiple lakes and snow caped Himalayan peak views with unique flora and fauna - Nainital, fondly known as "The Jewel of Kumaon" and "Lake City"
It is located at an altitude range of 6358 feet to 6837 feet. The summer temperature ranges from 16°C to 24°C and in the winter it is between 1°C to 11°C, making it a perfect place and one of India's top 5 hill stations. It is really a chill station rather than a hill station.
Nainital is surrounded by 7 mountains and with picturesque strikingly beautiful views of nature, the experience of true Himalayan beauty, there is no wonder in why British admired it and now developed as a tourist's heaven. The centre of attraction is the mind blogging rarely to find eye shaped shining green water Nainital Lake with mythology tie to Goddess Naina Devi. Its tourism is supported by Nainital Ropeway, Snow view, Himalayan viewpoint, Tiffin Top, Cave Garden, Hanuman Garhi, Pangot & Kilbury Bird Sanctuary, Corbett National Park, Cheena Peak and Cliffs. Nainital is not only famous for its beauty and tourism and foggy weather but also for its world class English era schools, agriculture and horticulture.
---
Buy & Rental Trends in Nainital
Now, anyone in India can purchase properties in Nainital and register it irrespective of the state they belong to. After this relaxation, the real estate price in Nainital has sharply increased in the recent past. The need for a getaway and the thirst for adventure among the city dwelling population in North and West India led to the rise of this hill station as a place of not only tourist interest but an investment of a second home. Due to which there is an exponential growth for the Nainital real estate demand but the gap between the demand and availability is ever widening.
One can find beautiful villas, bungalows, farmhouses, wooden houses, residential lands, agricultural lands and independent houses for sale in Nainital but it is rare to find commercial properties for sale due to the reason that the tourism related business is the livelihood of the local residents. Nainital property rates are much cheaper while comparing to the nearest cities in the plains and other hill stations in Uttarakhand like the state capital Dehradun, Haridwar, Rishikesh and Roorkee. When it comes to Nainital property rates, a villa price ranges from Rs. 4000 to Rs.8000 / Sq. feet depending on the location, feature and amenities.
Property rental rates in Nainital is comparatively higher comparing to the nearest cities due to the huge tourist attraction, number of boarding schools and most of the Uttarakhand state government offices located here. Rent of a 2BHK villa in Nainital will be in the range of about Rs. 30,000 / Month.
---
Economy of Nainital
Tourism, Agriculture and Education industries form the backbone of Nainital's economy. A major factor that supports these two industries is Nainital's average temperature. Having a year-round subtropical highland temperature, it aids the cultivation of diverse English fruits like Pear, Peaches, Plum, Apple, Walnut and vegetables like Legumes French bean, Cauliflower and Cole crops. The produce grown in Nainital is favoured in nearby cities and is widely transported to places like Delhi. The abundance of crops supported by Nainital has in turn led to a boom in the food processing industry.
Tourism is an evergreen business in Nainital with a variety of camping like lake view camp, riverside camp and forest camp, water sports ranging from relaxed ride to adventurous rafting, which pulls a huge floating population and drives hospitality, food and handicraft industries.
With more than half a dozen world renowned British era schools and numerous residential schools, it is one of the educational hubs and thousands of students from the North and Western parts of India are admitted for studies here, which is the driving force of this industry as well as related real estate. Due to the attractive rental income and huge demand for it, not many post property for sale in Nainital and instead of which they prefer to advertise property for rent.
---
Why to invest in Nainital
The growth of Nainital as a tourist destination has been noteworthy. The state of Uttarakhand has been ever improving facilities in Nainital of tourist interest but without affecting its natural and old Charm. Due to which Nainital is well placed among the popular tourist destinations not only in India but in the entire world. It is estimated that during summers, the population of Nainital increases five-fold due to tourist inflow and a significant number of foreign tourists to flock this city.
This offers a valuable opportunity to invest in the hospitality sector, especially in home stays. The concept of homestay has been popularised by aggregators in recent years. The potential to convert houses into homestays and the scope of higher rental incomes are major reasons why one may invest in Nainital.