Real Estate Norms in Uttarakhand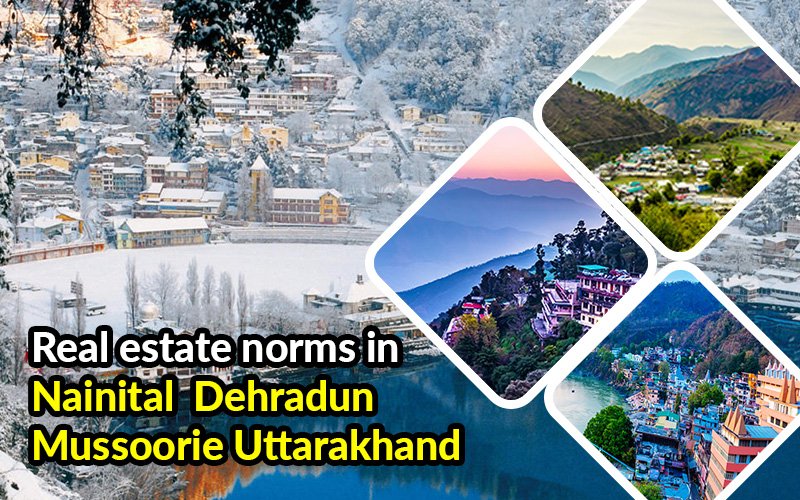 Uttarakhand is a state of great spiritual importance in India. Haridwar and Rishikesh are situated here. This Indian state is famous for another reason. It is the number of hill stations it hosts. According to popular online resources, there are 12 hill stations in Uttarakhand. They include the very famous Dehradun, Nainital and Mussoorie. It is no surprise that people who visit these hill stations are captivated by the beauty of nature. Many of them would aspire to own a property in this state. But how much do they know about real estate norms in Uttarakhand? In this blog, let us explore some of the common questions that potential buyers may have
The most important and frequently asked questions about Uttarakhand real estate are,
Can Outsiders Buy Property in Nainital / Dehradun / Mussoorie and Rest of Uttarakhand?
YES! Now Uttarakhand is open to buyers outside of the state. One can buy real estate in nainital or others hill station in uttarakhand without size restrictions within the municipal limits. When it is outside the city limits, there are restrictions for the extent of land one can purchase which was earlier 500 Sq meters and later reduced to 250 Sq meters by the State government.
Having said that let us understand,
What Are the Advantages of Investing in A Property in Nainital / Dehradun / Mussoorie / Uttarakhand?
Uttarakhand is a promising investment destination for investors looking for quick appreciation of built -up property. According to reliable sources on the internet, property rates in Dehradun had appreciated by more than 3 times in the last 3 years. In line with its growth as a tourist destination, Mussoorie's property rates had also seen the biggest jump in the last two years. Nainital has a unique position as a real estate destination too. We have a detailed blog written on property prices in Nainital, do check it out.
Now, let us look into specifics of property measurement, construction and registration procedure
How is land measured in Uttarakhand?
Land in Uttarakhand is mostly measured in Sq yards as shown below


In cases where a bigger measurement is needed, land is measured in Nali. 1 Nali = 2160 Sq ft
What are the construction materials and methods commonly used in Uttarakhand?
Locally sourced construction materials are widely used in Uttarakhand.
The foundation is typically 2 feet deep and is made of stone.
The walls are constructed using stone rubble and wooden members.
Houses are plastered with mud and cow dung.
Timber projections are used under the roof eaves.
What is the list of documents needed for property registration in Nainital / Dehradun / Mussoorie / Uttarakhand?
Duly signed original document
Encumbrance Certificate
Proof of identity & address for buyer, seller and witnesses
Power of attorney as applicable
Deed / document to be registered
Valuation Certificate as per requirement
How to register a property bought in Nainital / Dehradun / Mussoorie / Uttarakhand?
Registration of property can be done in the sub registrar's office after registration on the online portal https://registration.uk.gov.in/ This website is maintained by the government of Uttarakhand. Let us look into how to use this portal.
From the e-valuation tab of the homepage, stamp duty and registration fees can be calculated. Conversely, stamp duty will automatically be calculated while registering the deed online. The following is the procedure to register deed online
Click on the Public Data Entry tab
Register as a New User by providing your mobile number
Once you are successfully registered, you will be redirected to the application page upon sign in
Select deed and sub deed type from the dropdown menu
Provide property details
Proceed to calculate stamp and registration duty; Input relevant Challan and e-payment details
Click save and continue
Login again in the Public Data Entry tab
Provide details of party and witnesses
Print the document
Submit the online application through unique application ID to the sub registrar's office (SRO)
Book online time slot for SRO procedure
Once the verification and registration in SRO is complete, you can download the registration certificate from the portal
Are you interested to buy or sell property in Nainital / Dehradun / Mussoorie / Uttarakhand?
Today online is the best source to find a buyer or seller or tenant due to its reach beyond boundary and visibility to greater audience. There are numerous online property portals but Hills & Wills is a property portal exclusively for hill station properties alone. You can Post Ad for free to sell / rent your property in Uttarakhand hill stations and advertise online in www.hillsandwills.com. If you are a buyer, you can not only find properties in Nainital / Dehradun / Mussoorie alone but across India.