Shimla
7467 Feet Altitude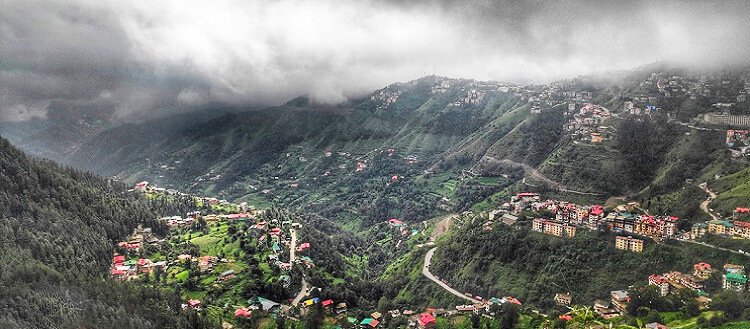 Why to live in Shimla
A scenic hill station surrounded by misty Himalayan cliffs, dense oak and pine forests and lush green valleys, the glowing sobriquet of Queen of Hills is a fitting tribute for Shimla and it widely resonatesthe visible beauty of pristine nature all around.
Shimla is located on seven hills of South Western Himalayan hill ranges spread over Inverarm Hill, Prospect Hill, Observatory Hill, Summer Hill, Elysium Hill, Bantony Hill and Jakhoo Hill. Perched at an average altitude of 2,206 metres above mean sea level, the weather of Shimla is a constant companion to find warmth. The summer temperature confines itself to a maximum of 28 °C and slips to a minimum of 19 °C at night. Winters are quite chill with morning temperatures restricted to 10 °C, as nights could touch -1°C.
It's a real spectacle to witness Shimla draped with snow during the winters, as the snow-capped peaks with rich forest cover make the picture perfect to buy a property in Shimla.The Legacy of the town datesto the British era, who accorded prime importance and had their summer capital since 1864. The hill station with resplendent beauty par excellence has its origins of name from Goddess Shyamala,is a destination for the peace loving, walking through clouds and the air filled with fragrance of blooming flowers really rejuvenates anyone.
---
Buying & Rental Trends in Shimla
The primary question in front of many nature lovers is whether an outsider can buy property in Shimla. Yes, but not all can buy any type of land.
As per the Himachal Pradesh State Acts, non-domiciles can buy a plot of land or apartment for sale in Shimla from licensed developer or builder within corporation limits and in urban areas from Himachal Pradesh Housing and Urban Development Authority but there are restrictions for buying agricultural lands for sale in Shimla.Hills & Wills always emphasises to check and understand the applicable local laws of any hill station before making a buy decision especially in States where there are limitations in real estate.
The vestiges of the bygone era abound throughout Shimla complimented by exquisite architecture. The vintage structures built many decades ago command a good premium and the prices are higher near the shopping hubs like Mall road and Lakkar Bazar. For those scouting to settle or find a seasonal home, a property for sale in Shimla is an enticing proposition. The real estate hot spots of Shimla includes Summerhill, Chotta Shimla, New Shimla, Shimla buy pass, Mehli, Panthaghati, Longwood, Bagh, Mashobra, Bharari, etc
As a well-developed hill station with plenty of natural resources, many yearn to buy a house or plot though a villa is the first choice. The surge in picking vacation homes at Shimla and the craze for high standard education has propelled the rental trends to breach higher levels and tough to get a property for rent in Shimla.
---
Economy of Shimla
Shimla continues to thrive with its economy hinged on tourism andto a greater extent on horticulture. The region'sapple orchards are legendary and have a great following in other parts of India and in abroad as well for the delicious taste.The town is one of the first choicesof destination for the well healed in north India, specifically near the Delhi region. Its snowy mountain slopes are the most favourite for the trekkers and skiers which is not common in other hill stations especially in South India. These reasons along with climate are responsible the real crowd puller from the nearby states and for enhancing the Shimla property rate.
The other major factors driving the economic activity are the residential schools like Auckland school that fill the landscape of the place in high numbers. With well-equipped hospitals supplemented by pollution free healing environment, medical tourism in Shimla is gaining pace.
Buoyed by tourism, the hospitality sector has amazingly benefitted with many star hotels dropping anchor here. Leading the list of highest ranked hotels among cities, the occupancy rates are mostly high as tourists visiting Shimla generate the demand throughout the year. It is rare to find hotels for sale in Shimla.
---
Why to invest in Shimla
The Shimla smart city mission has accelerated the development of requisite infrastructure in a big way.It is ranked as most liveable among cities with less than a million population in 2020 as per the Ease of Living Index (EOLI) report released by Union Ministry of housing and urban affairs.
The convalescence centres are gaining momentum all over the hills for those trying to recuperate after undergoing medical treatment. Investing in convalescence centres brings in handsome returns and one can easily regain a better proportion of the money spent.
The real estate in Shimla has become a favourite for denizens sweating it hard in the cities at plains nearby. A hectic life calls for a welcome break in the hills to smoothen the nerves. It helps in reinvigorating the mind and body, enabling a person to perform better.
Buying house, villa or flat for sale in Shimla is a smart investment in the long run, considering it in terms of a second home destination. It translates staying in your own space for an extended period and saves the hassles of finding an accommodation everytime you visit the town.