Real Estate Norms in Himachal Pradesh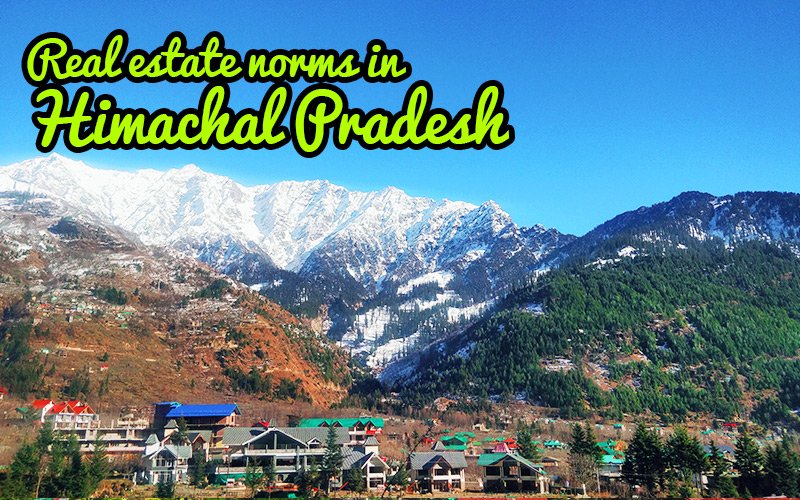 Himachal Pradesh is a state of unique characteristics. It derives its name from two words that literally mean the state of snowy slopes. This hill locked state is home to as many as 28 hill stations! Kullu- Manali, Shimla, Dalhousie and Dharamsala are among the notable hill stations in Himachal Pradesh.
For the north of India, in addition to the state of Uttarakhand, the majority of nature lovers and adventure seekers favour hill stations of Himachal Pradesh for their old-world charm. What about people who wish to own a property in this state?
Come let's explore its rea estate norms
The most important question is,
1. Can outsiders buy property in shimla / Kullu-Manali/ Dalhousie and Dharamsala?
The answer is YES!
Any Indian citizen can buy property in Himachal Pradesh and its hill stations but with limitations!!
Some of them are
An outsider from Himachal can buy a pre-constructed or built-up property in the urban areas of these places. If the property is outside municipal limits, the property can be leased out through a registered lease deed.
When it comes to agriculture land, the rules of the state government do not allow the purchase of agricultural land by a person who is an outsider to the state or a non-agriculturalist within Himachal itself. This is due to the reason, Himachal has limited agriculture land due to hilly terrain and it needs to be protected and preserved for ever.
For special projects, non-agricultural land can be purchased by specifying the purpose and seeking special permission from the state government.
Having said that let us understand
2. What are the advantages of property investment in Himachal Pradesh?
The culture of investing in a second home is catching up across India and north India is no exception. The need for a vacation home that is easily accessible from cities is the reason behind real estate boom in Himachal Pradesh's hill stations. The central government has also started to carefully implement infrastructural projects in line with making these hill stations as smart cities. Market sentiments reveal that the quality of life in hill stations like Shimla is higher than metropolitan cities which is why investors are keen to have such a life experience. According to a famous newspaper, the market for luxury villas and farm houses in Himachal Pradesh is fast growing and 2021 would be a favourable time to invest in such properties owing to a potential price hike in near future and lower price at present due to COVID19 Pandemic impact.
Find here, price comparision of property/land in Himachal Pradesh and Other major cities in across north india
Now, let us look into specifics of property measurement, construction and registration procedure
3. How is land measured in Kullu-Manali / Shimla / Dalhousie and Dharamsala?
Land in Himachal Pradesh is mostly measured in Sq yards as shown below

In cases where a bigger measurement is needed, land is measured in Kanal, 1 Kanal is 5445 Sq ft or 605 Sq yd.
4. What are the construction materials commonly used in Himachal Pradesh?


Wood is the primary building material employed in traditional architecture
The plinth or base course of the buildings is typically made of stone. It raises above ground level and protects the superstructure from snow, ground water and seismic tremors
Dry masonry is employed along with alternate layers of wood beams without any cementing material
Truncated stone corners and wooden pegs are employed to keep the beams in place
Walls have a double-skinned construction, with airgaps that are filled with small pieces of stone to provide thermal insulation
5. What is the list of documents required for property registration?
Duly signed original documents
Ownership Certificate or Jamabandi
Agriculturist Certificate or permission under section 118 of the HPTRA as applicable
For land, an affidavit or self-declaration about the distance of land from the road is required
Proof of identity & address for buyer, seller and witnesses
Deed / document to be registered
Valuation Certificate as applicable
Copy of Tatima (Tatima means document pertaining to division of plots)
Any other document it may be required by the registrar as applicable
6. How to register a property bought in Himachal Pradesh?
Property registration in Himachal Pradesh can be done in the sub registrar's office (SRO) with the help of the online portal https://himachal.nic.in/This website is maintained by the revenue department of the government of Himachal Pradesh. Let us look into how to use this portal.
From the registration tab of the homepage, information on stamp duty and registration and document writing fees can be obtained.
Conversely, stamp duty can be calculated from the duty calculator page of the website.
Deed registration can be done at the Citizen Service Centre or the SUGAM centre. Kindly refer to the website https://hpshimla.nic.in/sugam/ for more details
Once, the application has been submitted in the necessary format, the counter clerk will forward the online application to the concerned authority
After obtaining the date and time of the appointment from the SUGAM centre visit the SRO with original documents for further verification
After verifying the documents, the registrar will update the detail in online land records in Himboomi tab of the https://himachal.nic.in/ website
Hills & Wills being a hill station specific online property portal always emphasis to check and understand the local law in any hill stations before making buy decision because the real estate norms in plains differs with hills in many of the states and few states like Himachal Pradesh has specific limitations to preserve the ecology. It is highly advisable to take the guidance local legal experts always as they knew the exact real estate laws of Himachal Pradesh, latest updates, procedures, especially the local body realty norms in Shimla, Kullu-Manali, Dalhousie, Dharmasala and other hill stations in Himachal better than anyone else. Need not to say that it is always the responsibility of the property buyers to look into the legality of property to protect their interest. Hills & Wills is not only the favourite choice of sellers to post property Ad for free in Himachal hill stations and sell property online quickly but it is the preferred choice of buyers across boundaries due to its hill station specific rich information which are useful to them.