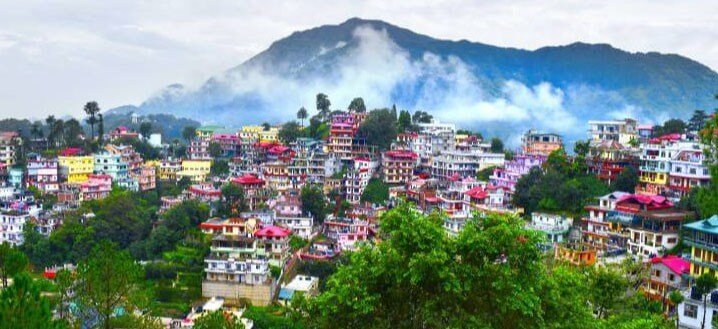 Why to live in Solan
Appealing with its regal natural beauty and the many appellations like 'Mushroom city of India' decorating Solan, it is also fondly called as 'City of red gold' on the strength of high production of tomatoes.
At an elevation of 1,550 metres, Solan's temperatures are not as cold as Shimla or as blazing as Kalka. The temperatures swing between 34°C to -4°C throughout the year with the highest recorded summer temperature of 37°C and winters normally witness some snowfall earning the hill station the name as 'Mini Shimla' and it stands between the waters of Sutlej and a branch of Yamuna called as the Giri. It is deciphered for these reasons a flat for sale in Solan tempts the buyer.
With its vintage architectures and staggering heights of mountains, Solan is a natural fit for lovers of solitude. Solan gets its name from the Goddess Shoolini Devi who holds exalted reverence in the region. As the gateway to other popular hill stations of Shimla and Kasauli in Himachal Pradesh, Solan is a vital cog of connectivity and has its own share of tourist attractions.
---
Buying & Rental Trends in Solan
Good connectivity and the comparatively short distance to Chandigarh with a pleasant climate have driven real estate activity in Solan. Statistics revealed by Real Estate Regulatory Authority of Himachal Pradesh underscore an overwhelming 58% of the new projects are being developed Solan, much higher than 26% projects in Shimla, the capital of the state. A property in Solan entitles the buyer to good infrastructure facilities with comfortable weather year around.
With bulk of the projects under construction in Solan, professionals working from home are swarming on the hill station either to buy or rent a home in Solan. The extraordinary reach of technology has blurred the geographical boundaries and the location where the employee is stationed has become inconsequential. The techies buy second homes at Solan to get relieved from the gridlock styled they were used to while living in cities. Solan villas are their preferred choice though quite less available in the sell property online segment.
Land for sale in Solan is mostly concentrated in the areas like Baddi and Kasauli in Solan District. Sensing the extensive readiness from the fraternity of NRIs and IT professionals, construction behemoths are developing many residential projects in these regions.
---
Economy of Solan
Commended as the industrial hub of Himachal Pradesh, Solan district is the numero uno in terms of gross state domestic product (GSDP). The other feather on the cap is its first position in district wise per capita income. The wide cultivation of Mushroom yields a better income for most of the hill station's residents and seasonal vegetables along with the popular ones like apples, apricots and kiwi are also grownon a bigger scale. Solan is a critical hub for horticulture produce marketing and a huge complex on Saproon bypass houses the vegetables and fruits market.
Tourism is a significant revenue producer for Solan and the town is also recognized for the large presence of pharmaceutical industries. In addition, multiple milk chilling plants and MSME industrial units employ large sections of the society and have a distinct role in the upkeep of the hill station's livelihood. The employment opportunities bear its stamp on the real estate in Solan as many people prefer to stay close to their work places to avoid long commutes.
Solan hill station is becoming a merging point of the state's health, academic and commercial sectors with supportive infrastructure in place.
---
Why to invest in Solan
The tax concessions offered by the Himachal Pradesh government has enticed many companies to relocate their manufacturing operations from other states especially to Solan and major healthcare, pharmaceuticals companies have their large plants in Solan district - Thus Solan is the industrial hub of HP and post property ad for free receives multiple enquiries here.
Solan is a growing educational hub with many boarding schools and technical institutions in diverse fields like Pharma, Medicine, Horticulture and Engineering which induces many to look for a house for sale in Solan for settlement.
Most of the Himalayan hill stations have too cold or adverse climate during the winter whereas Solan has a pleasant climate throughout the year. NRIs and the prosperous have developed a special affinity for Solan on account of this magical climate and easy accessibility to other cities and continue searching a property for sale in Solan.
The major advantage with Solan realty sector is many of the projects under constructionare within its municipal limits which can be easily transferred without anyconstrains while the Himachal Pradesh real estate norms are very stringent and have certain limitations for outsiders buying properties in this state which a buyer needs to understand clearly before buy property in Solan.