Rishikesh
1120 Feet Altitude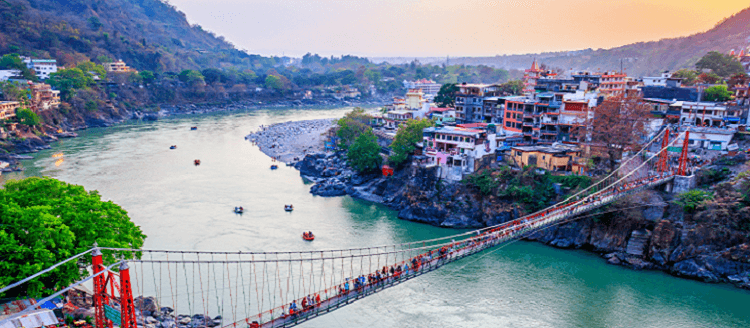 Why to live in Rishikesh
The aura of spirituality is imbued everywhere in the holy town and the exalted feeling of being in divine land embraces every soul visiting Rishikesh. Epithets abound on Rishikesh as "the place of sagas" and more prominently as "the Yoga Capital of the World"
Firmly girded in the lap of Himalayas at an altitude of 340 metres, Rishikesh is also known as the "Gateway to the Garhwal Himalayas" and the starting point for the ChardhamYatra comprising of Badrinath, Kedarnath, Gangotri and Yamunotri - a famous pilgrimage undertaken by the Hindu pious. As a major holy destination famous for holy bath at Triveni Ghat, Ganga Aarti, etc., a Property in Rishikesh finds many prospects among the fraternity of devout.
The temperature in the peak summer months of May records 39 degree Celsius though the night temperature dips to 23 ºC. January is one of the coldest months with maximum and minimum temperature in the range of 17ºC to 5ºC. Blessed with a hospitable climatic condition without snow fall, it is one of a favourite hill station for Indians to live and a property for sale in Rishikesh is always on demand.
---
Buying & Rental Trends in Rishikesh
Rishikesh has carved its place as spiritual place for the Hindus in the Himalayas and on the other side, adventure activities has engrossed the sporting enthusiasts to congregate upon the town. As the devotees and the practisers of Yoga preferring to enjoy their own worlds with an extended duration of being stationed in Rishikesh decide to buy their own property and there is a requirement for house for sale in Rishikesh.
With technology and connectivity making the borders immaterial people go about their jobs by staying far away from their work location. This has heralded the phenomenon of booking a flat for sale in Rishikesh. When the time is not ripe for them to buy a apartment, buyers at least purchase a land for sale in Rishikesh, with plans to construct in the near future according to their choice.
The increased awareness on wellbeing through Yoga has bought many health conscious to set foot on the town who browse for a flat or house for rent in Rishikesh for an extended stay considering the high demand and per day cost to stay in hotels or resorts in Rishikesh. The land owners and real estate dealers in Rishikesh migrated to digital era and utilize post property ad for free option to sell property online without getting entangled with extra fees.
---
Economy of Rishikesh
The economic contribution from the tourism industry is a springboard in creating jobs in a diverse range of sectors of the hospitality industry. It is the nerve centre of recreational activities like kayaking, trekking and rafting, and has passionate aficionadas of games in the wild throng the town every season year after year. Due to high and attractive rental revenue, Rishikesh real estate is a highly valuable destination for its commercial properties.
The ashrams located in Rishikesh have followers around the world and International pop bands like Beatles have popularised Rishikesh with their visits during their heydays leading to more tourists visiting it from other nations. The demand for villas in Rishikesh for sale is interpreted as a clear sign of the evolving homestay market to cater them with good ROI.
Rishikesh is a popular hub for the business of gemstones like amethyst, sapphire, crystal and those with spiritual valuable stones are eagerly purchased by the tourists for themselves and also as a souvenir. Old houses and residential plots in Rishikesh are quickly picked by the professionals and enterprising individuals behind this sector
---
Why to invest in Rishikesh
Among the corporates, giants like Hindustan Lever, Hero Moto Corp Ltd, Mahindra & Mahindra have their manufacturing bases in the city. It has ushered a range of ancillary industries to serve them which welcome skilled workers who tend to buy plot in Rishikesh to get domiciled in the place in the long term.
Rishikesh is the fulcrum point of the recent initiatives by the government in connecting the Char Dham for spiritual tourism and remote border of Uttarakhand for ease movement of defence through road and rail line projects which will drastically transform Rishikesh into a Metro soon and Rishikesh plot rate is much lower than major cities in India, so it's the right time to invest.
Rishikesh is one of a rare hill station without water issues because it is nestled with river Ganges which leaves the Shivalik hill range at here and flows into North Indian plains. This is seemingly attractive to investors as they are more convinced to purchase agriculture land and never miss farm house for sale in Rishikesh in the online property portals.