Why a Property Buyer need A Professional Hill Real Estate Agency in Kolli Hills?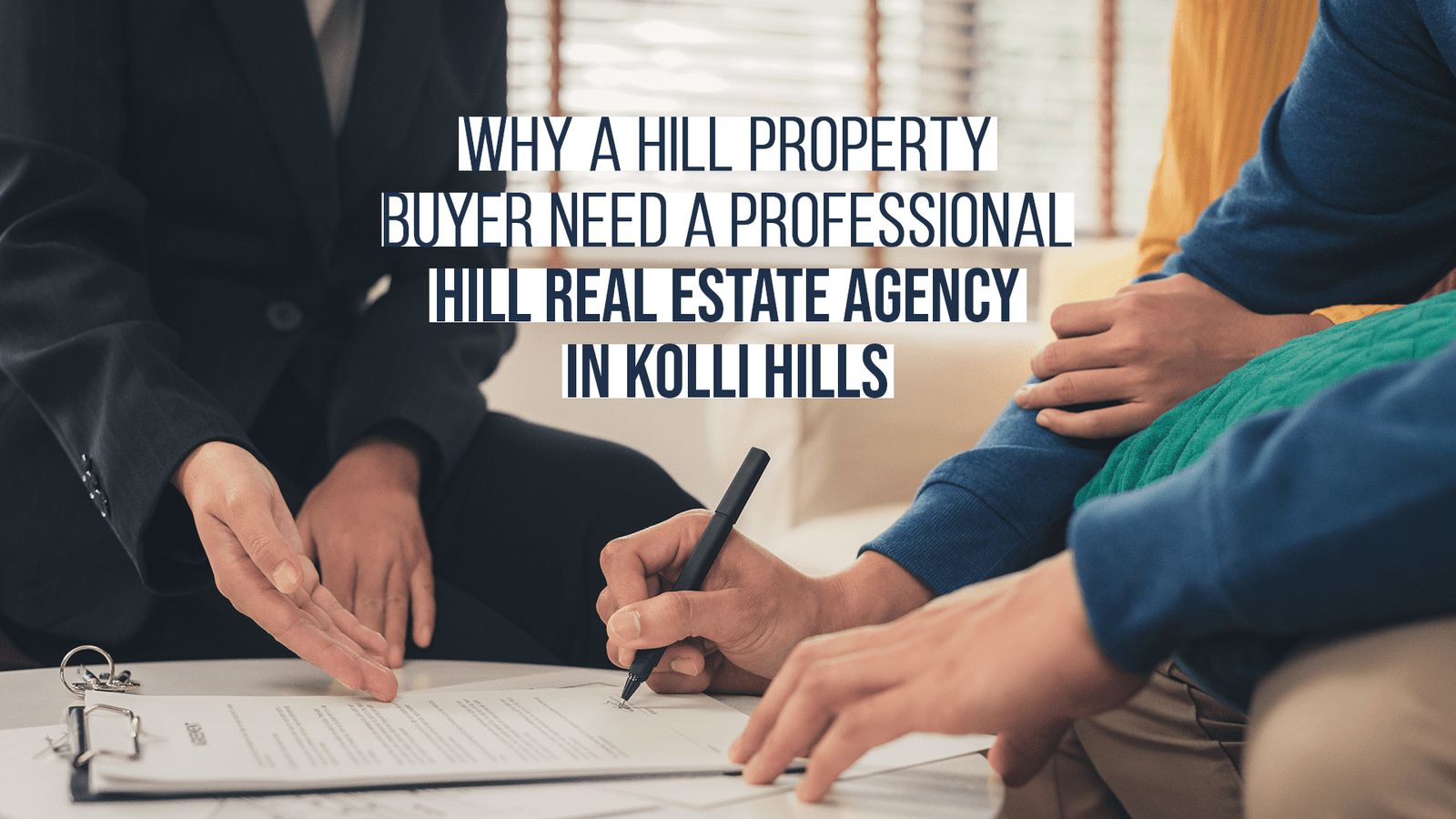 Today buying a property seems to be so easy through online resources just like any other online shopping.
But it is not so.
The online resources assist a buyer only in few activities of the real estate buying process by just displaying a list of properties and providing the leads. There are many other key aspects in the process such as site visit, market analysis, negotiation, documentation, and registration, for which they don't give a hand.
Most importantly, the dream of a hill station property varies from person to person. What if the listed property in an online source doesn't match the buyer's dream?
Online sources are far from the replacement for a professional real estate agency!
Why property buyers need a real estate agency?
For sure, a real estate agency helps buyer in much more activities than online sources and some of them are
Assists the buyers to evaluate a property
They know what to look for in property through their day-to-day experience
Helps the buyers to value the worthiness of a property
Being at local, they know the realty market and price trend there, better than others
Make the site visit ease to buyer
They professionally coordinate and arrange it at buyer's door step
Assists the buyers with vital information
They know local developments and issues
Acts as a messenger to convey tough terms & concerns of a buyer
They convey it in a professional way without affecting the ego of seller
Acts as a negotiation mediator
They assist the buyer to achieve their target price and terms
Help the buyers in real estate contract
They will have updated and vast knowledge on real estate norms and practices
Acts as a mask for buyer's emotion
They shield the feeling of a buyer and protect their interest in front of the seller
Assists the buyer for a smooth and successful transaction
They network with different professionals and keep the transaction schedule on track
There is no valid reason for a buyer to not hire a real estate agency for a nominal fee because they can save huge money, avert risks, and save enormous time for the buyers.
What is special about Hill Real Estate Agency?
Unlike in city or plains, Hill station properties are as unique as "Finger Prints" in terms of view, climate, terrain, gradient, etc and even adjacent properties are not alike and the value of them too vary drastically. Adjudging the worthiness of a hill property is the toughest task.
Hill station construction norms calls for more land extent, higher open space, limited built up area, lesser floors, higher setbacks, limiting gradient of slope and environmental norms at hills enforces to keep a minimum distance away from forests, wildlife, and water bodies.
Estates, farmhouse, view point villa, or house or plot are unique property types in hill stations. While apartments are very popular at plains, it is a very rare concept in hill stations due to height restrictions to avoid land sliding possibilities.
No doubt, the real estate in hill stations is truly and entirely different from at plains or city!
Hill property buyers need a hill real estate agency and not a one at plains for the sake of known to them!!
Why a Professional Hill Real Estate Agency?
Though a general hill real estate agency assists the buyers much better than the online sources, a "Professional Hill Real Estate Company" is a much bigger picture and will have enormous data and knowledge about different hill stations, Outsized list of properties to offer, Market statistics, Standard operating procedures, Team of professionals, Different real estate skills, Regional offices at different hill stations and Network of resources, with which they can assist the hill property buyers at an advanced level like
How to choose a hill station?
How to select a property in a specific hill station?
How to adjudge the worthiness of a hill property?
Which is the best investment in hill station? Etc...
Hills & Wills qualifies to be a "Professional Hill Real Estate Company"
Why Hills & Wills?
Hills & Wills Exclusively deal with properties in major hill stations across south India such as Kodaikanal, Ooty, Coonoor, Kotagiri, Gudalur, Yercaud, Yelagiri, Courtallam, Kollihills, Valparai, Munnar, Sirumalai and Coorg, etc.
Hills & Wills
Exhaustively lists hill station properties than online sources, but if a buyer doesn't find a match of his dream in the H&W list, then H&W source and match it, for sure.
An expert in offering premium views and prestigious properties across hill stations.
Assist buyers with an advanced level of Hill Station Real Estate Advisory
Offers property management service support in construction, rental, renovation, and property monitoring in specific hills for hassle free enjoyment of the hill property.
Hills & Wills strongly believe that knowledge sharing with the hill property buyers enables them to make the right buying decision at hills, which built trust and it is the ultimate key for the sustainability and growth of the business. Hence it continuously role out quality blogs related to hill stations and hill realty as a knowledge sharing practice and published a highly useful "Free E-Book – Hill Station Property Buying Guide" to answer all the queries in the mind of hill property buyers.
"Real estate cannot be lost or stolen nor can be carried away
Purchased with common sense, paid for in full, and managed with reasonable care,
It is about the safest investment in the world."
- A famous quote by Franklin Roosevelt
It is sensible to buy property at Yelagiri through a qualified and "Professional Hill Real Estate Agency" in Yelagiri like Hills & Wills for hassle free purchase and enjoyment!