Property prices in Gudalur vs Major cities Why to invest in Real estate in Gudalur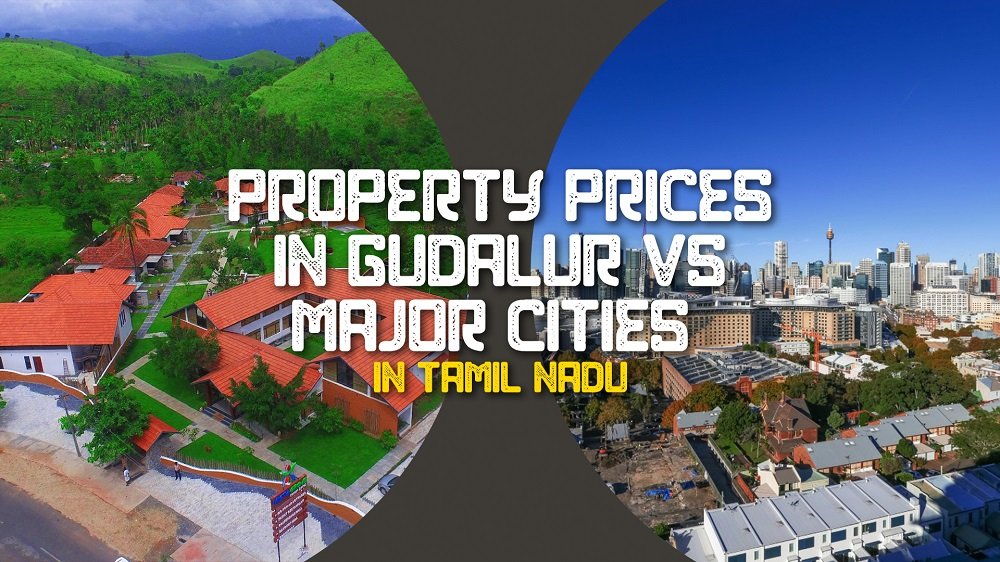 Gudalur? Where is it?
Some of you may have this question. In this blog, we are not only to learn where it is situated but also its real estate scenario. You might be surprised in the end so come along!
Gudalur Quick Facts
It is a municipality and taluk in the Nilgiris district of TamilNadu
It is located at the intersection of three states TamilNadu, Kerala and Karnataka
It is located at a distance of 52 km from Ooty
It is situated at an altitude of 1000m or 3500 ft
The town Devala in Gudalur taluk is referred to as 'Cherrapunji of the south'
Gudalur was originally part of the Malabar district in Kerala, during British rule. In 1877, it was appended to the Nilgiris district
Gudalur - Top Places to Visit
This view point is famous since it offers a 360-degree view of the surroundings. It is located at a distance of 8 km from Gudalur. The sight of mighty mountains peeking through clouds is worth watching.
This hillock's shape resembles a frog and hence the name. It is located at a distance of 12 km from Gudalur. The peak of frog hill offers an enthralling view of tea estates and villages nearby.
This estate is an interesting place to visit near Gudalur, located at a distance of about 17 km. The estate produces high altitude coffee, Stevia and cardamom. The estate adopts several environmentally safe practises that are noteworthy.
Property price in Gudalur
We will be comparing the property prices of major cities in TamilNadu with average property prices in Gudalur
The cities in TamilNadu and areas under consideration are as shown below.
Chennai - Teynampet
Coimbatore - Town Hall
Madurai - Andalpuram
Trichy – Thillai Nagar
Data is expressed in the unit (Rs. / sq. ft)
Residential land prices in major cities vs. land for sale in Gudalur
Apartment prices in major cities vs. apartment for sale in Gudalur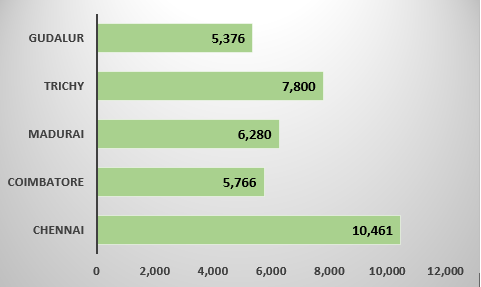 Independent house / Villa prices in major cities vs. villa for sale in Gudalur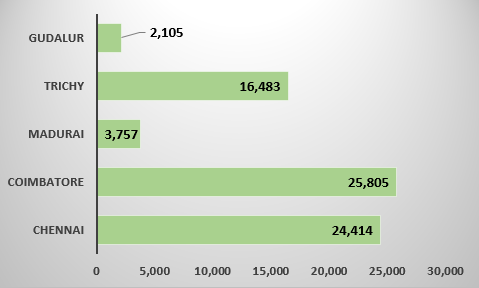 What do we infer?
Gudalur is the most economical option for residential plots, apartments and independent houses/ villas as compared to major cities in TamilNadu!
When compared to the capital of TamilNadu, the prices in Gudalur are
Residential land - Approximately 5% or 1/20th of the property price in Chennai
Villa / Independent house for sale in Gudalur - 9% or 1/ 11th of the property price in Chennai
Gudalur qualifies best, as an affordable destination. Price is a crucial factor for real estate purchase decisions, but what matters more is the purpose of investment itself.
As for a visually appealing destination, Gudalur may be a small town but it has a lot to offer. Nature lovers will sure find this place an apt choice for a summer home.
The location of Gudalur makes it a special place like none other. Gudalur is close to the following places in addition to being close to the 'Queen of Hills'
Malappuram, Kerala (86.6) km
Mysore, Karnataka (107 km)
Kozhikode, Kerala (108.6 km)
By investing in Gudalur, you invest in a beautiful, well connected & affordable place. Still Have questions? contact the hill station realty experts, Hills & Wills to know more about Gudalur properties on sale. Multiple options at your disposal!