The Hill Station Real Estate - New Dimension 2 | Gateway to get away from Pandemic!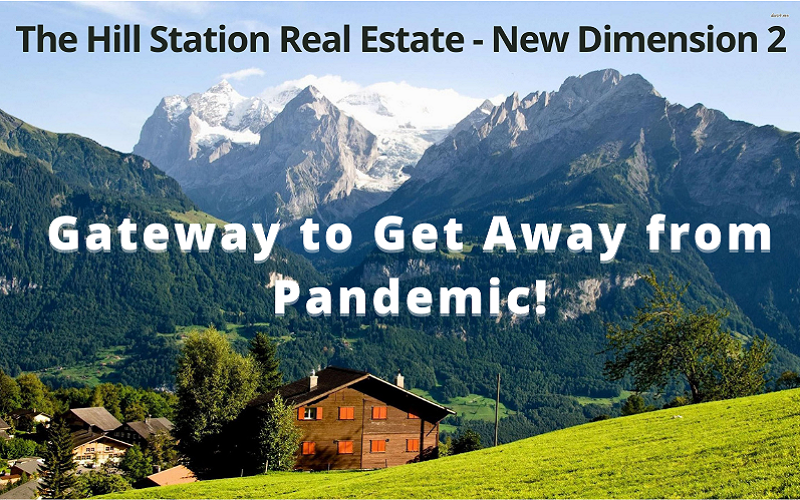 Gateway to Get Away from Pandemic!
There could be hardly anyone in the world unaware about the impact of present day pandemic COVID-19, thanks to the digital revolution. But many of them may not know about the pandemics of the past and one of the best gateways is to get away from the pandemic.
Pandemics are not new to mankind as they encountered many in the past like Plague, Flu, Black Death, AIDS, Yellow fever, etc during different centuries and the earliest known outbreak was in 430 BC. Some of the highly unknown facts about them are
They too had many variants and waves especially the Plague and Flu.
They were spreading across the globe much faster even during when air travel did not exist.
They led to population loss many folds higher than the present day pandemic COVID-19.
They ceased trade across boundaries and choked economics.
They weakened and shattered empires like Rome, prefigured revolutions and redefined boundaries.
They impacted even religions, its growth and their practices of wiping evils.
They altered the civilizationtime to time– Example, elimination of slavery / bonded labour system in Europe, better wages to laborers who survived and technology innovation to manage short fall of labours, etc.
They led to development of public health systems.
History is not onlydrafted by mankind but by microorganisms also from time to time.
Traditional Techniques
Though the pandemics in the past led to increased research efforts in epidemiology and development in medical science, the scientists couldn't find common variable among the historic pandemics and a way to prevent it forever. Various techniques were used by different countries in the past to combat pandemics. Out of which, only few concepts like closure of borders, wearing mask, social distancing, quarantine were successful and they are the ones handy even today in containing and contesting COVID-19 pandemic caused by Corona virus. For example, during 1918 Spain flu pandemic, Americans used face mask.
Apart from invention of vaccines specific to COVID-19, improved traceability and quick testing mechanism are some of the visible advancements of managing present day pandemic. But the increased population density in cities today is the different situation, than the previous pandemic episodes – It nullifies the above scientific advancement advantages significantly.
The Real Social Distancing
Omicron, the new variant of virus causing COVID-19 is first identified just at the end of November 2021 but in less than 2 weeks time it has spread over to 30+ countries. This is said to be extremely transmissible, can potentially replace the prevailing Delta variant and it could cause the possible 3rd wave of COVID-19 – Time only can answer and confirm it.
Whereas vaccines are under continuous research and improvement to handle different upcoming variants of COVID pandemic, vaccination is yet to be completed in many countries which depends on their production rate and vaccination for certain age group especially below 18 is yet to be introduced successfully.
What is left over to defend it?
It is the real social distancing.
Every government across the globe is insisting to maintain a specific social distancing during public appearance, travel, at work place and put their best efforts to implement it. It could be practically possible in villages and smaller towns. While the metros in India have a population density of 20000+persons per Sq. Km and the major cities have 10000+ persons per Sq. Km, even a cautious common man could be a prey for breach of social distancing by someone else who is infected already.
The best way is to be away from the crowd and temporarily migrate to native villages or towns where the population density is less. This is possible for only those who has an accommodation to stay at their native and that their job can support it – For example IT professionals follow the concept of 'Work from Home'.
If there is no residence in native village or town, what is the way out?
Finding a place where the population density is less which is none other than hill stations.
The New Dimension of Hill Station Real Estate
The population density per Sq. Km in Indian hilly regions is less than 500 and in popular hill stations it is around 1000. Considering this natural social distancing, the desire to buy house in Ooty, Coonoor, Kotagiri, Kodaikanal, Yercaud, Yelagiri, Kolli Hills, Valparai, Gudalur, Wayanad, Munnar, Coorg, Chikmagalur, Lonavala, Panchgani, Mahabaleshwar, Nainital, Dehradun, Kullu-Manali, Mussoorie, Shimla, Darjeeling and other hill stations of India, keeps increasing among city dwellers depending on where they live.
This is justified by the fact that the population density per Sq. Km in Kolkata is 22000, Mumbai is 21000, Chennai is 17000, Delhi is 11312, Bangalore is 11000 and Hyderabad is 10,477 whereas, it is just 422 in Nilgiri district and 1,100 in Kodaikanal town – It is a significant difference of 3 digit to 5 digits of population density per Sq. Km. In other words, Population of the famous south Indian hill towns is less than 1 Lac - Ooty 88,430, Coonoor 45,954 and Kotagiri 28,207. These data are based on the 2011 Census and statistics available in online sources.
There was an increased online search about house / villa / farm house / apartment / land / plot for sale in Ooty, Coonoor, Kotagiri, Kodaikanal, Gudalur, Yercaud, Yelagiri, Kolli Hills, Valparai, during the lock downs in 2020 and 2021 from the geography of Tamil Nadu. Out of which the enquiries to buy residential plot / land in Ooty and Kodaikanal were more in the range of 10 to 25 cents and the farm lands in the range of 1 to multiple acres with scenic view suitable for their dream home / farmhouse construction.
Considering this, similar should be a phenomenon of increased internet search about house / villa / farm house / apartment / land / plot for sale in Munnar, Wayanad from the geography of Kerala, in Coorg and Chikmagalur from the geography of Karnataka; in Lonavala, Panchgani, and Mahabaleshwar from the geography of Mumbai, in Darjeeling, Siliguri from the geography of Kolkata andin Shimla, Nainital, Dehradun, Kullu-Manali, Mussoorie, Mount Abu, etc, form the geography of North and Western Indiaincluding Delhi during their respective lock down times.
This means hill stations are not only the retreat for summer but for pandemic too. Though there are some apprehensions about cold weather is favorable condition for the virus to spread, scientists states that it is hypothesized at the start of the COVID-19 pandemic but the level of epidemiological evidence remains low. Moreover it is negligible in front of the huge difference in population density at hill stations.
Due to these facts the hill station real estate will see a sharp increase in near future for sure and real estate price in Indian hill stations at present are many folds lower than the real estate in Chennai, Mumbai, Kolkata, Delhi, Bangalore, Hyderabad, other state capitals and major cities - It is the right time to invest / buy a house in hill station which is definitely a safe home during summer as well as pandemic for different reasons such as the weather during summer and unparalleled social distancing during Pandemic.
Gateway to Get Away from Pandemic
History states the pandemics in the past existed for a prolonged period with different variants. Prevention is better than cure and hill stations are proven to be a safe haven during peak infection time or lock downs in addition to following other instructions given by the respective government bodies time to time like vaccination.
Apart from the statistics to support it, one can practically understand this by
The distance between habitations outside the municipality limits of all popular hill stations – "Social Distancing both Horizontally and Vertically".
The foot hill check posts which makes much easier at hill stations to close its borders – "Faster and Secured Isolation"
The hill station life style of naturally confining inside home for a specific time period due to the weather especially during the evening, mist and snow fall – "Quarantine by Default".
If you are interested to buy property in Ooty, Coonoor, Kotagiri, Kodaikanal, Yercaud, Yelagiri, Kolli Hills, Valparai, Gudalur, Wayanad, Munnar, Coorg, Chikmagalur, Lonavala, Panchgani, Mahabaleshwar, Nainital, Dehradun, Kullu-Manali, Mussoorie, Shimla, Darjeeling and other hill stations of India, Hills & Wills is the ideal online real estate platform which not only exclusively deals with hill stations across India but with expertise in educating its clients about this type of new dimension / other phase of hill station real estate. On hillsandwills.com a buyer can find a wide range of hill station properties with different views and climate than elsewhere, be it tiny or luxury and connect with the property owner / advertiser directly with a simple registration, negligible subscription fee and with huge savings of brokerage in the case of property posted by owners.
Hills & Wills is the ultimate choice of the hill station property sellers. They can post property Ad for free on www.hillsandwills.com with highest validity in the online property portal industry, display their hill station property more professionally than anywhere else, reach hill property interested buyers beyond boundaries and sell property online fast for a fair price. It is the obvious real estate website for professional real estate agencies in hill stations because it is the only property portal where they can post multiple properties for free for a long term.
Hills & Wills strongly believes that every hill property buyer needs to have adequate knowledge about hill real estate and change of life stylesince it is different from that of the plains, before they invest in hill station or decide to buy property in hill station, and will continue to educate them on other dimensions of hill station real estate through 'The Hill Station Real Estate – New Dimension 3', coming out soon.
Find other Dimensions of Hill Realty
Hill Station Real Estate New Dimension 1 – 'Hill Stations Become Monsoon Retreats Too!'