Hill Station Residences – An Indispensable Realty Hill Station Real Estate New Dimension 3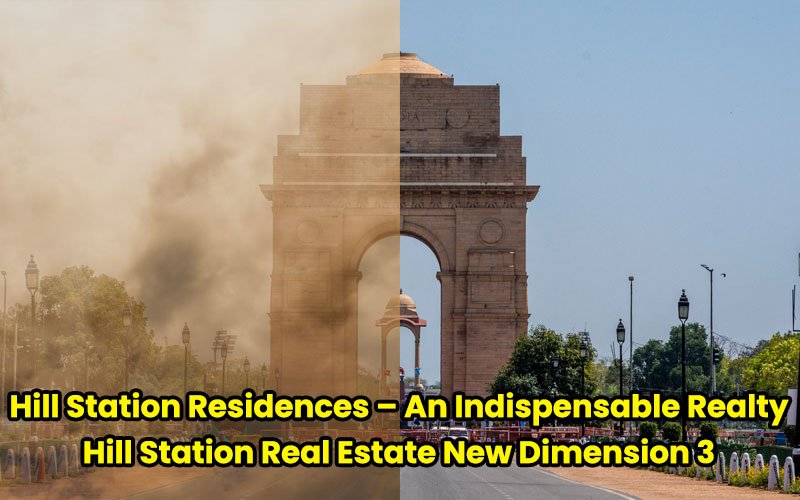 Over the ages, prior to the dawn of the ground-breaking scientific innovations, the denizens of the planet led a harmonious life in groups and their lifestyle was in sync with nature without any air pollution. They had a firm understanding on the weather cycle throughout the year and their prediction of rainfall and other related aspects was nearly correct. Their knowledge was astounding as they could comprehend the onset of nature's conditions with initial signs. This was a key factor in agriculture enabling them to determine the most suitable crop to cultivate for each season and thus agriculture was their primary and main business.
Later theindustrial revolution, automobile invention, urbanization with huge constructions, agriculture waste incineration, power generation and other advancements have slowly altered the climatic conditions and the relevant seasons over the years. The abrupt changes also triggered the air pollution which is measured by Air Quality Index (AQI). Our health directly corresponds with the air which we respire and it is again linked to the surrounding ambience where we reside. AQI has ingrained the thought of buying second homes in hill stations and villages in specific seasons as a requisite.
Air Quality Index – A measure of air quality
Air Quality Index or AQI is the yard stick with measurement of Zero to 500 used in India to indicate the quality of Air. The lower AQI value indicates we inhale quality air and the higher values indicated the quality of air is inferior andcertainly detrimental to our health. If AQI is
0 to 50 – Good – Minimal Health Impact
51 to 100 – Satisfactory - Minor breathing discomfort to sensitive people
101 to 200 – Moderate – Breathing discomfort to the people with lungs& heart diseases
201 to 300 – Poor – Breathing discomfort to most people on prolonged exposure
301 to 400 – Very Poor – Respiratory illness on prolonged exposure
401 to 500 – Severe – Affects healthy people and seriously impacts those with diseases
This terminology differs in countries – For example, it is called as 'Common Air Quality Index (CAQI)' in Europe, 'Air Quality Index' in USA,'Air Quality Health Index' in Canada, Pollutant Standards Index in Singapore and 'Air Pollution Index' in Malaysia, etc. The measure of good air is used as a fair knowledge to understand the quality of air and enhance the level of living standards.
The burgeoning population and the vehicles bought by them severely influence the air quality level and pushes towards migrating to better areas with good atmosphere. A glance at the AQI levels in cities enables us to apprehend the spurt in property registration in hill stations and villages
Typical AQI data in India on 19.12.2022
| | | | |
| --- | --- | --- | --- |
| No. | City Name | AQI Value | Pollution Level |
| 1. | Bengaluru | 88 | Satisfactory |
| 2. | Chennai | 66 | Satisfactory |
| 3. | Delhi | 176 | Moderate |
| 4. | Hyderabad | 99 | Satisfactory |
| 5. | Kolkata | 226 | Poor |
| 6. | Mumbai | 135 | Moderate |
Key Impacts of Poor Air Quality
World Health Organization (WHO) states that 9 out of 10 world's population live in places where air quality levels exceed WHO limits and 4.2 Million deaths occur every year as a result of exposure to outdoor air pollution
Air pollution is the 4th largest threat to human health next to high blood pressure, dietary risks and smoking
According to the World Bank, the global cost of air pollution is US$225 billion annually
Air pollution accelerates climate change which is the greatest threat to mankind in the near future
WHOhas declared outdoor air pollution including diesel engine exhaust under Group 1 which is carcinogenic to humans similar to tobacco
Reduces life expectancy of exposed people by many years globally
Evolution of a new season
Normally the seasons are classified as summer, autumn, winter and spring. In India, the occurrence of monsoon between July to September and the withdrawing or retreating monsoon falls between October and November. The month of November brings abundant amount of rainfall in Tamil Nadu wherein other parts like states bordering the Western Ghats receive their bounty in the July – September period. The drastic increase in pollution levels year on year on led to the emergence of a new season post the winter period or precisely after the harvest time in January. In this particular period the relevant aspects like mist or fog reaches extreme levels and is more aggravated by the pollution like burning of the crop remnants apart from the exhaustion emanating from automobiles.
Life in Metros
The threatening levels of air quality index has prompted retaliatory measures by the National Green Tribunal or NGT and Central Pollution Control Board by
Imposing restrictions on the general public using own vehicles in certain part of the country like in Delhi to use Odd & Even registration number vehicles on alternative daysand encourage them to use public transport
Policy decisions to reduce diesel car productions / migrating to eco friendly electric vehicles and reduce coal fired power plants / migrating to clean energy like hydro & solar power plants
Enforcing the industries to adhere to the guidelines laid down to minimise pollution.
The central and different state governments implement many mass transport system related projects like Mono Rail, Metro Rail, etc across the country with an intention to encourage public transportation usage and to avoid / reduce own vehicle usage thereby reduce the pollution in Cities and Metros.
Despite implementing these measures, there is an alarming bell every year about poor air quality in Metros. For example, New Delhi to an extent experiencespoor visibility for vehicle operation which is said to be due to the burning of agricultural wastes in a specific season and there is no solution found yet. The Delhi citizens happen to wait till the wind direction changes to get cleared out of this mess. Though there is a sea breeze, the costal metro like Chennai also reported about poor air quality in the recent times occasionally which is due to high concentration of industries around it and ever increasing vehicle population.
Are Tier 2 Cities safe?
Life in Tier 2 Cities
Air quality is not an issue in Metros alone but even in Tire 2 Cities. Recent articles inleading newspaper states that industrial cities like Tuticorin in Tamilnadu also facing equivalent poor air quality issue despite lower vehicle population while comparing to the Metros which is due to multiple power plants with cumulative capacity over 3000 MW around this city. This is a different scenario - Power generation is very essential, Pollution norms are strictly adhered since most of the power plants are government owned but it is the cumulative effect of multiple power plants emission in a smaller region. There are many other Tire 2 cities in India with specific industrial concentration and they could also face similar situation depending on the nature of industry.
Where is the safe heaven?
Owning Essential homes in Hill Stations
It is not possible for all the individuals to change their job and shift family to villages or small towns where air quality is best and perfect for the health. With the ambience of air in cities going down by multiple notches and chances of return to normality appearing quite bleak, owning homes in hills is fast emerging as an imperative option due to its negligible population, industry while comparing to the cities in plains and its huge green cover which can absorb the air pollution and generate fresh air – Hill stations are not only a retreat for summer but for highly polluted season.
People with retirement homes in the hill stations can enjoy good health and those who have the second home in hill stations can rejuvenate themselves by short stay during weekends / vacation and taking a break from the city or metro whenever the pollution level becomes unbearable. On the other hand the property prices in hill stations are cheaper while comparing to real estate in Chennai, Mumbai, Delhi, Kolkata, Bangalore, Hyderabad, Pune and other Tier 1 & 2 Cities of India which motivates health conscious peoples to invest in hill stations.
New Dimension in Hill Station Real Estate
Owning a hill station home was a luxury matter in the past but it is becoming essential now a day – It is a new dimension of hill station real estate and due to which the hill station realty is heading for a great growth in the near future without doubt and it is the best time to invest there.
If you want to buy house / bungalow / villa / farm house / residential plot / land in hill stations like Ooty, Coonoor, Kotagiri, Kodaikanal, Yercaud, Yelagiri, Kolli Hills, Valparai, Wayanad, Munnar, Idukki, Coorg, Chikmagalur in Southern India, Panchgani, Mahabaleshwar, Lonavala, Mount Abu in Western India, Shimla, Nainital, Dehradun, Kullu – Manali, Mussoorie, Solan, Jammu & Kashmir in Northern India, Darjeeling and Siliguri in Eastern India, browse through www.hillsandwills.com and find your dream and safe heaven – India's first online property portal exclusively for hill stations. Choosing the right property is a conundrum and with various aspects involved in it the best way forward is to approach hill realty expertise portal like Hills & Wills.
If you are a hill station property owner, you can post property Ad for free, post multiple properties and sell property online faster by just listing your property advertisement on www.hillsandwills.com which is the ultimate online platform to sell hill property at ease with state of art display, visibility across boundaries and reach to targeted hill station property buyers.
Find other Dimensions of Hill Realty
The Hill Station Real Estate - New Dimension 2, Gateway to get away from Pandemic!