Commonly used Measurement Units in South India and Hill Stations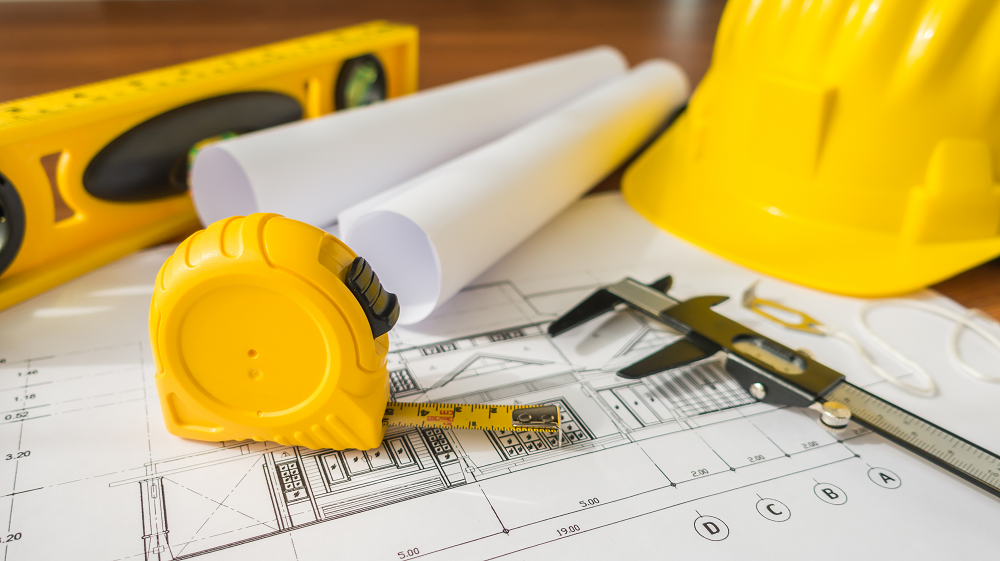 Most often we come across a variety of measurement units when we deal with properties
But do we know how they are related?
Or when they started to be used?
In this blog, we are to discover the most commonly used units for measurement in real estate, along with units exclusive to regions in South India and the impact / application of them at real estate in Ooty, Kodaikanal, Coonoor, Kotagiri, Gudalur and other Tamilnadu hill stations
Globally used units
There are 5 globally recognised units of measurement as given below,
Square foot
Square yard
Square meter
Acre
Hectare
Square foot - sq. ft, sf, ft2,'2
It is the unit used most frequently while referring to measurement of properties
One square foot is defined as the area of a square with sides equal to 1 foot
The value of 1 foot is defined by the International Yard and Pound Agreement of 1959,
1 foot = 0.3048 meters or 12 inches (The length of an average man's foot!)
Square foot is used mainly in the USA, UKand India. It is also used in the African countries of Ghana, Liberia, and in Myanmar, Singapore, Hong Kong.
In India, the Real Estate Regulatory Authority (RERA) has mandated that property measurements be given in Square foot
Square yard
1Yard equals 3 Feet or 36 inches
One square yard thus is equal to 9 sq. ft
Yard came into existence as a measure of a man's belt or girdle.
Square meter - m2
Square meter (American spelling) or square metre (International spelling) is the area of a square whose sides are 1 meter
1 square meter = 10.764 sq. ft
Acre
To understand acre, one must understand two other terminologies; Chain and Furlong
1 Chain is a unit of measurement that is equal to 66 ft
1 Furlong is equal to 1/8th of a mile and equals 660 ft
1 Acre is represented as 1 Chain * 1 Furlong = 66 * 660 = 43,560 sq. ft
It is interesting to note that Furlong was traditionally denoted as the distance a team of oxen could plough continuously without rest
Hectare– ha
One hectare is the area of a square whose side is 100 metre
1 ha = 2.471 acre = 1,07,637 sq. ft
Hectare was first authorised by the French Revolutionary Government in 1795!
Quick Recap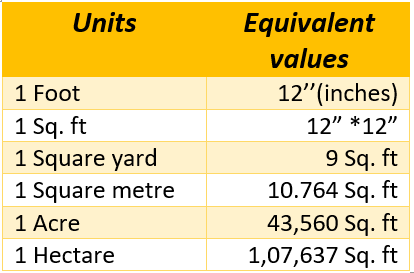 Units Specific to South India
Units used in Tamil Nadu Hill Station Real Estate
If you have interested to buy independent house, villa, apartment, commercial building or farm house in Ooty, Kodaikanal, Coonoor, Kotagiri, Gudalur, Yercaud, Yelagiri, Valparai, Kolli hills, Courtallam, Sirumalai, Manjolai and Top slip, Square feet is the unit predominantly used. Though ground is a terminology popularly used in cities like Chennai and in plains, they are not at all used in hill stations.
Whereas if you want to buy residential plots, commercial land in Ooty, Kodaikanal, Coonoor, Kotagiri, Gudalur, rest of Nilgiris, other Tamil Nadu hill stations in western and eastern ghat, they are defined in square feet or cents normally.
Similarly if you want to buy farm land, estate in Ooty, Kodaikanal and other TN hill stations, smaller piece of lands are specified in cents, acre and bigger estates are mentioned in acre and hectare.
Measuring a flat terrain land in plains is much easier but it is very difficult in hill stations due to bumpy, sloppy and rocky terrain. The measuring technique followed in hill stations differs bit and tactical too. If you want to buy a hill station land, you need to be careful while measuring it which is directly related to cost of purchase. Either you need to have adequate knowledge of hill side measuring practice or purchase hill station lands through experts like Hills & Wills who take care of such hassles. However measuring a building doesn't have any complications in hill stations and it is similar to that of at plains.