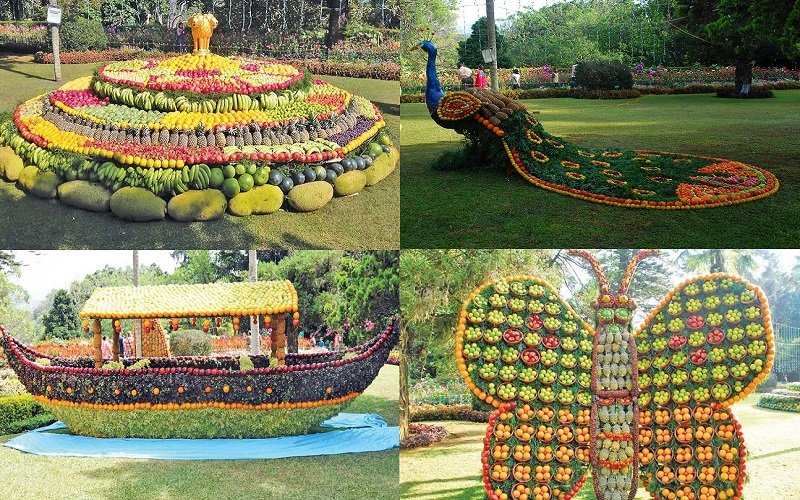 Fruits and its produce can't be separated from human life right from a childhood. Fruits are not only delicious but they have minerals, vitamins, antioxidants and fibres which are essential for healthy life of human.
Though certain fruits like banana are globally cultivated and commonly available to all, there are many exotic fruits like Durian, Rambutan, Passion Fruit, Salak, Dragon Fruit, Jack Fruit, Mulberries, Bayberries, Goji Berries, Feijoa (Pineapple Guava), Carambola (Star Fruit), Korean Melon, Physalis (Golden Berries), Pandanus, Loquat, Akebi, Longan, Kiwano, Cherimoya which grew in specific climate and regions only.
Earlier people use to have the fruits cultivated and available in their region but today any fruit is available across the globe mainly due to Fruit Shows and Festivals across the globe followed by globalization in the recent past.
Why Fruit Shows & Festivals
Provides a platform for the horticulture industry to display the varied fruits types to the discerning connoisseurs from various region
Offers wealth of information regarding the fruits cultivated in different regions
Provokes farmers to think out of the box and cultivate fruits like Buddha-shaped Pears, Cubed Watermelon, etc
Introduces and promotes rarely available expensive fruits like Yubari King Melon, Sembikiya Queen Strawberries, Taiyo no Tamago Mangoes, Ruby Roman Grapes, Pineapples from the Lost Gardens of Heligan, Densuke Watermelon, Dekopon Citrus, Sekai Ichi Apples across the world
Educates the entrepreneurs and farmers about the produce from the fruits and its export opportunities
The visitors get to learn about the nutritive value of fruits in daily life
Top Fruit Shows & Festivals in the World
The Pineapple Festival of Thailand, Mango festival of India, Peach Festival of Georgia, Blueberry Festival of Texas, Cranberry festival of Canada, Strawberry festival of Cambridge, Blackberry Festival of Canada, Marino Grape Festival of Italy, Cherry Festival Michigan, of Orange festival of Amsterdam, Lemon festival of Menton, Watermelon festival of Chinchilla, Banana festival of Sacramento are some of the top Fruit shows and Festivals in the world which are been used as a thanks giving ceremony for the farmers who produce the specific fruits in addition to serving the above mentioned purposes.
Prominent Fruits Festivals in India
National Banana Festival – Being India as the largest Banana producer of Banana in the World, National Banana Festival is organized in states like Kerala, Tamilnadu, etc every year which dazzles the visitors with an eclectic range of banana types numbering around 150 and exhibits Banana produce like banana chips, banana honey, banana biscuits and surprisingly banana wine too.
Pineapple Festival - Accorded as an important horticultural event in North East India, the festival is an annual affair in the state of Manipur. Held in the months of August or September, the highlight of the expo is the offering of local recipes prepared from Pineapples.
International Mango Festival - Commanding the stature of King among fruits, Mangoes have a large league of epicureans for its great taste. As a fitting tribute to its reigning position, the International mango festival is held in Delhi every year and the fiesta brings an astounding 500 varieties of mangoes for display.
Similarly the Jack Fruit festival in Goa, Orange Festival in Nagpur, Konkan Fruit Festival in Goa, Chikoo Festival in Maharashtra and Strawberry Festival in Mahabaleshwar are the other Top fruit festivals in India.
Why Coonoor Fruit Show is Unique
Relishing the most exotic and luscious fruits in a warm and serene atmosphere with close kin and kith is a memorable moment. And it is truly eternal if the place happens to be one of a favourite hill station destinations like Coonoor.
One of a oldest fruit show in India - More than 60 year old Fruit Show in Century old SIMS Park ( SIMS park was inaugurated in 1874)
A high altitude fruit show in the world at 6070 Feet height from the mean sea level with misty weather
Unlike other fruits shows in the country, it displays variety of fruits and fruity sculptures
Coonoor Fruit Show's grand welcome arch till the replica of heritage structures (like Taj Mahal), Animals (like Elephant), Fruit Rangoli, etc during each edition has been bejewelled using tons and tons of native fruits cultivated in Nilgiris and by the foreign origin fruits cultivated at the 'Coonoor Pomological Station'
Variation of display and innovation from edition to edition - Exhibits a single replica made using more than a Ton, Uncut Fruit Show, etc
The event enunciates the enormous range of fruits cultivated in the hilly region often not easily available to the urbane brethren.
Among the vast variety of fruits kept as exhibits the ones grown in the hilly region like peach, plum, avocado, jackfruit, velvet apple and other types of wild fruits cultivated in the hills find a special place in the show
Impact of Coonoor Fruit Show
The annual fruits exhibition organised in Coonoor is an important event in the tourist's calendar of the hill station. Horticulturists from around India & abroad deem it their privilege to visit the show which draws tourists in hordes corresponding with the summer vacation. Coonoor Fruit Show acts as a catalyst in attracting and promoting tourism in the Nilgiris region at the height of summer.
There is an enormous surge in the tourists' arrival at Coonoor coinciding with the fruits show which is billed as one of the most captivating shows in south India. After successful completion of over 60 editions, the festival plays a vital role in ushering economic growth for the town of Coonoor as the guests decide to drop the anchor of accommodation there. They search online for a land for sale in Coonoor to construct their dream house with a garden of hilly fruits like apple, orange, peach, berry, etc which they knew it can't be cultivated in the plains as well as in the low altitude hill stations across India. A colonial bungalow or villa for sale in Coonoor is the most preferred choice of the high net worth individuals of South India and retired staffs of Wellington due to its scenic beauty, magical weather and railway connectivity in addition to its unique attractions like botanical garden (SIMS Park), lake and summer festival.
Coonoor Fruit Show 2022
The 62nd Coonoor fruit show will be held on 28th & 29th May 2022 at Sims Park