Ever Crowned Queen of South India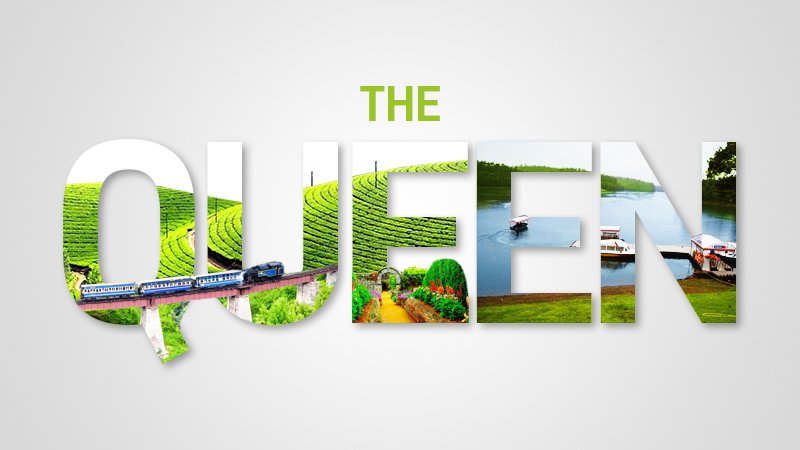 This is an age old question asked by many. India is a sub-continent and isn't scarce of mountains and hill stations, but why do people call Ooty the Queen of Hill stations in South India? There isn't one reason but many. Here's why
1. The Majestic Altitude
Ooty is a nature's tall magnificence. Near Ooty, is the Doddabetta peak, rising from the Nilgiri family of hills which elevates to a height of 2640 meters. Ooty is 2240 meter tall, the tallest in South India, wearing the crown as the 'Queen of Hills' in South India. The other major hill stations of South India are Kodaikanal at 2133 meter, Munnar at 1532 meter, Coorg at 1750 meters – Ooty is the tallest among them all.
2. The Ever-pleasant Climate
The tropical South Indian Peninsula is known for being hot and humid throughout the year. Many believe that the daytime weather in summer will be pleasant in all the hill stations, it is not true and in many hill stations it is beyond 25o C. But Ooty – Ooty is just a class apart. The climate ranges from as low as 5o C to only as high as 20o C, keeping it cooler than most of South India. Ooty can be visited throughout the year - summers are pleasant, winters are cool, and monsoons are beautiful. It was the 'Summer Capital' of the Madras Province during the period of the British, owing to its perennially cool climate.
3. It's of UNESCO Deemed Heritage site
The Nilgiri Mountain Railway, an intricate system spanning along 45 kilometres from Mettupalayam to Udhagamandalam is deemed to be a World Heritage by UNESCO. The NMR finds its HQ at Mettupalayam, and is still run by Diesel Locomotives. This historic railway is known for its scenic views and curves that is loved by kids and adults alike. Popular cinematic works such as the song 'Chaiyya Chaiyya', from the Shah Rukh Khan starrer 'Dil Se' were shot on the NMR. This railway sojourn is still validated by Edmundson styled tickets to preserve the heritage.
Ooty is a town that still preserves heritage and British-styled constructions and names, often reminding us that our country's heritage.
4. Ooty is a Botanical Paradise
Ooty houses the globally famous Botanical Garden that spreads over a massive 55 acres. It is a beautifully designed piece of architecture, once constructed for provision of vegetables at cheaper rates to the Europeans staying there. It now houses around 1000 species of plants, herbs, ferns, shrubs and bonsai's of both Indigenous and exotic varieties. At the centre, there is a fossilized trunk of a tree that is reported to be more than 20 million years old.
Ooty has unmatched, lush green cover all over the little town in the form of tea estates. Not all hill stations have the same type of flora and fauna, but differ with different temperatures and climatic conditions – Kolli hills with its cool yet humid climate is famous for pepper. Similarly Ooty is one of the very few hills in India that has the ideal conditions for tea to grow.
5. The Massive man-made lake on a Hill
The Ooty Lake. Yes it is man-made! It was constructed in 1824 by John Sullivan, the collector of Coimbatore back then. It was then constructed for fishing and irrigation purposes, but now houses one of Ooty's biggest attractions – The Boat House.
It currently spans across 3.885 sq. km and is located amidst the greenery and the forests and is truly a shimmering beauty among the lush vegetation. It is hoarded by tourists – both Indian and foreigners alike, that'd like to enjoy the peace and serenity of Ooty along a boat-trip on the lake. The lake itself is a beautiful site to watch and relax all over the day.
Ooty is Tamil Nadu's top tourist spots; most famous and favourite among summer getaways for many. The above reasons are the major among the various reasons that make Ooty the 'Queen of Hills'. From tourists to natives, there's nobody that wouldn't fall and stay in love with this scenic, nature's beauty. But we, at Hills & Wills know Ooty better than others and inch by inch, hence weren't convinced, and did a little more digging to get the top most reason.
A Queen should be a Queen for all
Ooty is almost located at the juncture of 3 major states of South India i.e., Tamil Nadu, Kerala and Karnataka. Thus, almost all the people in Ooty speak the languages of all three states, in addition to English and Hindi. This is one of the biggest and the most over-seen factors that make everyone feel at home, when they're at Ooty, making her the Ever-Queen Hill-station to the South Indians
Unknown Facts About Ooty
Why to Own a Property & Live in Ooty?