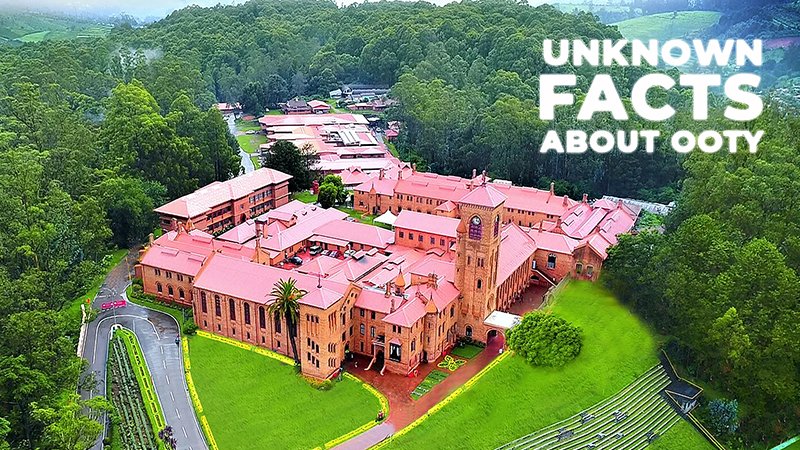 Ooty is known to all of us as a hill station tourist destination and for its amazing weather and mesmerizing lush green cover. It is also known for its tea plantations, mind blowing varieties (dust and leaf; black, green, etc) and flavors (masala, cardamom, chocolate, etc) of tea.
Besides tourism and tea, it is known to few for its homemade chocolates, Eucalyptus Oil, Varkey (A traditional Ooty Confectionery) and fresh English vegetables.
But "The Queen" is very famous beyond India for one more thing.
Surprisingly, not many know about that. Can you guess about it?
"Ooty is an Educational Hub for many decades"
Why Ooty and the concept of boarding schools
Ooty being at an altitude of about 7500 ft above sea level has a chill and pleasant weather throughout the year and abundant rainfall. The Europeans when visited Nilgiris in 19th Century for different reasons, found the weather in and around Ooty is similar to the climate in their motherland at Europe and decided that it would be one of the best suitable places for their children to stay and study. That is how it started becoming the education hub and the boarding school concept was born. It is the answer for "why Ooty has many boarding schools" too.
British Era schools in Ooty
Many schools were established by British and Europeans near Ooty for various reasons.
It was the idea of Sir Henry Montgomery Lawrence to establish a chain of schools to provide quality education to the children of the British soldiers and army officers. This led to establishment of four schools in his name at Sanawar in 1847, at Mount Abu in 1856, at Lovedale in 1858 (today's Lawrence school in Lovedale, Ooty) and at Ghora Gali, Murree, in 1860 (in today's Pakistan).
Breeks Memorial School was established in the memory of the first commissioner of Nilgiris in 1874 for the children of Europeans and Eurasians. At this school only, Lord Macaulay coined the syllabi of the education system for British India, which is still the spine of today's Indian education system. The idea was to create anglicized Indians who can bridge the cultures between the British and Indians.
When a group of Protestant missionaries came to the hills on vacation and were staying nearby Connor, decided that it would be of benefit to their children to live year round in the temperate and clean environment of the Nilgiri hills. That is how Hebron School was established in 1902.
There are over 60 boarding schools are there in Nilgiris at present behind these top schools.
Why Education in Ooty is the best
Diverse children are studying here and different talents get together which is the basic specialty of Ooty schools. For example, the Hebron school contains students from over 25 different nationalities. English is given huge importance in the Ooty curriculums to integrate them which is a major advantage.
Being top notch, Ooty schools are the first choice of the elites to put up their children for studies. While studying there along with the elites, one takes up their mannerisms, learns their skills and gains their friendship which is considered to be one of the greatest advantages of studying here. Many celebrities and industrialists are Alumni of Ooty British era schools.
Equal importance to sports and other extracurricular activities are given in most of the schools at Ooty, part of the European and International education system which they follow.
Of course, the weather, British era infrastructures and facilities, dedication of faculties especially in the British era schools (who stay mostly inside the campus), etc are the key.
Last but not least, the root of the modern Indian education system was founded in Ooty.
It is a dream of many parents across India to put up their children in Ooty schools. It is a pride and social status to them when their kids are studying in Ooty. There is no surprise that Ooty has been the education hub for many decades and the "Queen of hill station" ever.
Why Hills & Wills
Education is the third largest factor of Ooty's economy, next to Tourism and Tea plantation. This education hub attracts new admissions every year and thus a need for a second home for their parents to look after their children during holidays. This ultimately leads them to buy a property in Nilgiri (Ooty, Coonoor, Kotagiri or Gudalur area).
This is one of the secret behind the continuous growth of Ooty real estate despite of regional and global economical conditions. Thus it became the Non Resident Indian's (NRI), business men, top executives most preferred choice of investment.
People invest in Ooty properties for numerous reasons i.e for Social Status, Summer Home, Investment, Education, Retirement life, Weekend relaxations, etc. Nilgiri being a larger area and each property in hill is unique, "the selected property should match the purpose of buying it"; and a wrong combination will lead to a mess.
A hill station expert like Hills & Wills, the Top real estate company in Ooty and Nilgiris knows this hill and unknown facts about it better than anyone else and provides a world class advisory in Ooty realty and guides its clients to buy property in and around Ooty matching their intended purpose to perfection.