Kodaikanal – A rare Hill Station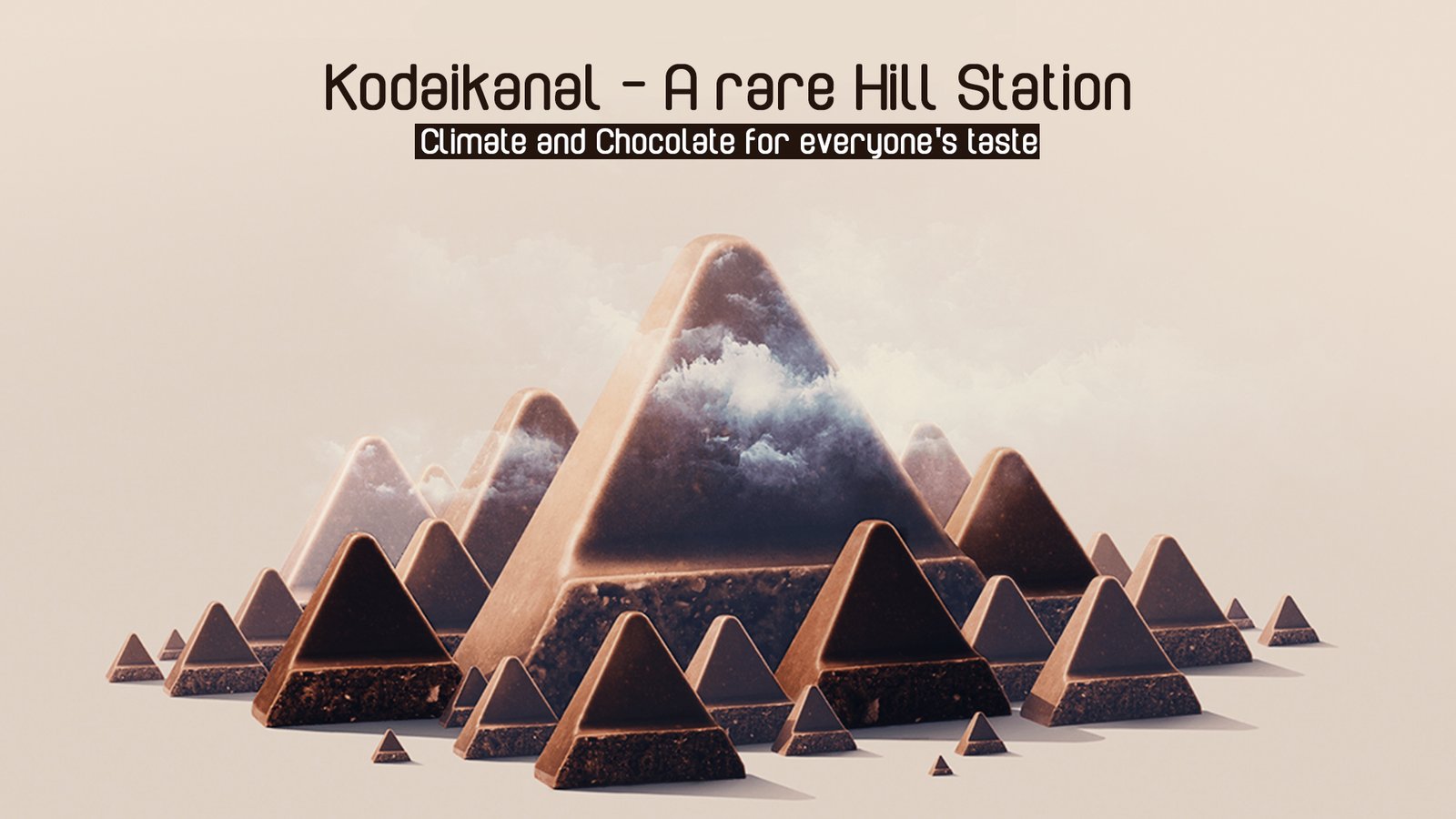 Climate and Chocolate for everyone's taste
Interests vary with the passing of age – a child at the age of 5 would love toys, a boy at 15 would love films and a young man, at the age of 25 would go behind the opposite gender. Interests varied, as the ages varied, but one thing was constant throughout – The love that us humans have towards chocolate.
Chocolates are a pleasant part of everyone's childhood, adulthood, till the end of one's life – Chocolates and sweets play an integral part of a person's life. Birthdays, celebrations, to comfort, in wars, for energy, for fun and where not – you can find chocolate everywhere.
History of Chocolate
Chocolate, though seen as a part of daily life today, was a symbol of prestige and high class during the medieval periods, among the Europeans. Chocolate's existence dates back to as early as 425 B.C. It was worshipped by the Aztecs and the Mayans. The conquests of Spaniards across the world, took chocolate from the Aztecs to Spain, and then to the rest of Europe, where it was revered to the utmost.
Mainstream chocolate was manufactured initially, during the period of World wars for soldiers to eat as they were great sources of energy.
This peculiar tasting, bitter, chocolate became a favourite delicacy all around the world - When mixed with sugar or honey and milk, today's chocolate thus took form. Chocolates are now produced by many countries, under many brands such as Cadbury's, Hershey's, Nestle, and many more.
India's very own chocolate factory
India in the meanwhile, jumped in the chocolate bandwagon at around 1852. This was when American missionaries took refuge from the scorching hot tropical weather at the plains, in this little town, Kodaikanal, the Princess of South Indian hill stations. Cacao beans, which grew abundantly here, and a few other places like Wayanad which remained undiscovered, were discovered and the development of the Chocolate industry in Kodaikanal started ever since.
A paradise for Cacao plants
Kodaikanal maintains an average temperature of 14.2 oC to 18.6 oC throughout the year. It also receives around 125mm of rainfall per month, and 1500mm of rainfall annually, on an average. It also maintains a shady and moderate climate throughout, making it an ideal location for Cacao beans to grow, since they require 90 – 100 mm of rainfall per month, and 1500-2000mm of rainfall annually; a moderate, shady climate and an optimum temperature that ranges from 18-25oC.
From Beans to bars
Chocolate is generally the term used to depict roasted Cacao beans with added sugars and sweeteners to combine with its natural bitter taste. Cacao beans are seeds of the Theobroma cacao which usually comes in pods, with a sweet, white, tarty pulp. These seeds are dried, roasted and ground together and is available as the Cocoa powder that we consume daily
Cho-kodaikanal at its best
People flock to this hill station town during peak season and the chocolate factory present here also falls in the main agenda of visit. The industry in Kodaikanal churns out many types of chocolate, and people hoard their pantries with these chocolates. The whole town is lined with both small as well as premium chocolate stores that sell chocolates in both weight as well as pack basis.
Since we, the experts at Hills & Wills, a premium hill station property management company, deal with commercial as well as residential properties in Kodaikanal, we have always took an interest in learning about the socio-economic history of this hill station. Thus, we did some more research on one question that had remained unanswered by many. What makes people adore Kodaikanal 'Home Made' chocolates?
The unique taste and the ruggedness screams "HOME MADE", with every bite. What's so good about it being home-made? The variety. Just like any other recipe, chocolates are also a recipe – it varies from door to door. While commercialized chocolates, made in huge factories all have the similar tastes, because of similar recipes, home-made chocolates are made from different recipes in different homes. This is why, in 'home – made chocolate haven' like Kodai, one can various varieties of chocolate – dark, white, milk, with nuts, without nuts, all of different tastes and feel, but delicious nonetheless. The unique taste and feel of these chocolates have been retained since the inception – that's because they fall under this brand called "No brand at all". The main, 'USP' we must say of Kodaikanal Homemade chocolates is that these aren't commercialized.
It's a chocolate feast, with a variety like in a Princess' palace!
It's a chocolate feast, with a variety fit for a Princess.
Looking for Buy Property in Kodaikanal?