Why a New Builder finds it difficult to sell their property in Hill Station?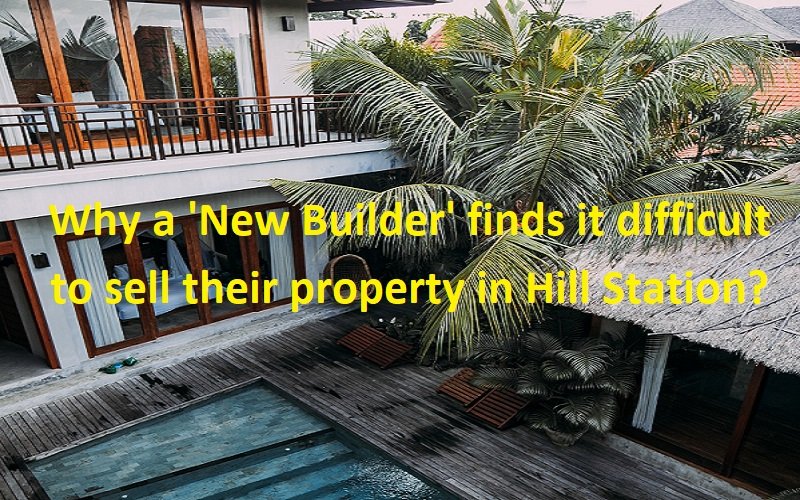 People when they visit hill stations to relax from their stress, they are mesmerized by the posh bungalows with lawn and colorful garden, villas with back yard for party, farm houses in the middle of tiny estates or orchids. The awesome resorts where they stay in the lap of nature with mist or snowwhich are not common in the plains where they live enhance the moments to be cherished.
The business minded people among them in the construction industry never miss to conceive an idea of stepping into real estate of those hill stations. Out of them, many are further motivated by the factors like the crowd of tourists flocking those hill stations, difficulty they face to find accommodations and most importantly the attractive cheap land cost in those hill stations comparing to the plans, etc
Sooner or later they decide to step into construction at hill stations by making a comparison with the stiff completion they face in their construction business at the plains. This is how many small builders come into the picture of hill station real estate and start construction of their first independent house, villa, bungalow, and cottage or farm house after buying a small piece of scenic land property in Ooty, Shimla, Nainital, Darjeeling, Srinagar, Coorg, Munnar, Lonavala, Mussoorie, Kullu Manali, Wayanad, Kodaikanal, Panchgani, Yercaud, Siliguri, Yelagiri, Morni Hills, Solan, Rishikesh, Valparai, Kolli Hills, Chikmagalur, Mahabaleshwar, Mount Abu, Nandi Hills or any other hill station in India where they visited frequently.
They would have many years of experience as well as successful track record in plains but the construction field in the hill stations will provide many surprises to them which they would not have faced at the plains. This includes the higher construction material cost since they need to be brought from the plains, increased labour cost due to short working hours and wastage of labour cost due to adverse / unexpected climate changes, unexpected additional construction cost involvement due to factors like need for revetment, landscaping, rocky subsoil and increased interest on investment due to delay in completing the construction, etc.
The First and Primary Mistake
To cover up this increased cost incurred, most of them will decide to revise the sale price of the house / bungalow / villa / farm house by doing a posh interior like wooden flooring, wooden false ceiling and furnishing with solar water heater, Jacuzzi, etc. Later they will end up in completing the construction at a higher cost and pitching at a different price segment– This is the primary mistake the builders do.
Because originally they would have done lot of home work and research about the lower segment market scope existing in hill station, profitable selling price, etc and start the construction. But the segment where they ended was not researched by them and it is a tough narrow segment or does not exist. All their homework and research done at the initial stage is useless to them at this stage.
For example, they would have planned to complete their project at less than Rs. 75 Lacs and pitch for a sale price of around Rs. 1 to 1.25Cr which is really a feasible market. But due to the revision on the flow, they would end up with a revised sale price of many folds higher like 2 to 3 Cr value for which the market may be narrow or not exist if the sale value is further high. Remember that anyone who wishes to own a luxurious bungalow or villa at crores of rupees budget in a hill station would like to have their own dream of design and they will not fit into a tailor made one.
The Second Mistake
These segment builders at this juncture will get stuck up and they normally take a decision of reducing or not spending their marketing budget which is the last expenditure to them. Instead they bet on the real estate agents or agencies to which they can pay brokerage if they are successful only and upon sale – This is the second mistake most of the builders do and the vital reason for their failure to come out of this mesh.
Also read, 6 Reasons Why You Fail to Sell Your Property
They forget to understand the fact that a hill station property for a second home purpose is very niche market and it is incomparable to the real estate demand in plains. It is not an easy task for real estate agents / agencies to find and get the buyers for this builder's such first project without the aid of online advertising. Due to which the builder will lose considerable time (in terms of months and in certain case years) and the property in hill station will start fading in its external look due to adverse climate which further deteriorates the interest of buyers who come for site visit or adds up the cost of exterior renovation after a year.
The Third and Major Mistake
Later upon understanding the value of online property portals, they starts to post property Ad for FREE – This is the major mistake they do.
They need to understand that the online property portals have different property listing types like free and paid listings. When you list property for free, the Ad will have very short validity, limited reach, visibility and result. Whereas the paid listing plans are designed by the online real estate property portals to provide best result in order to generate revenue for them and this is what is required for these kinds of builders to find buyers and to come out of the mesh. Hence these builders should never stop the marketing spending and in fact they should spend more for it than originally they planned for it since their buyer segment is narrowed down to high net worth individuals. Considering the building exterior / outdoor amenities / lawn / garden starts losing its charm and the cost involved keeping it intact and the pilling up interest on investment, the paid listing cost of the online property selling sites / real estate portals are almost negligible.
The Ultimate Solution
After understanding the above fact down the line, these builders decide to post property Ad on the online property portals without doing proper research – This is the ultimate mistake they do. They need to understand that there are many property selling sites and each of them has their own strong holds in terms of geography, sale or rent segment, target clients, etc and each online real estate portal has many paid listing plans at different Ad rate with unique features and mechanism. They need to do careful analysis on this aspect and post their property Ad on a right online property advertising platform and on apt paid plan.
For example, there is a specialized property portal which is now available exclusively for hill station real estate - Hills & Wills with targeted reach to hill station property buyers which could be the best option for them to choose and post their property Ad on advanced paid listings suitable to them for finding the buyers quickly and sell property online in addition to their other advertising efforts.
The hill stations have lot of surprise not only for tourist but to new builders too!
Only a hill PRO like Hills & Wills can understand it from their field experience, provide valuable suggestion like this, know how to sell property online especially when it is in hill station and offer suitable solution to such needy builders to sell house, villa, flat or farm house at a most economical and challenging listing fee / advertisement cost than any other property sale website / portal in India or any other mode of property advertisement like print media.