Invisible City – Alarming Delhi AQI and a Way to Rejuvenate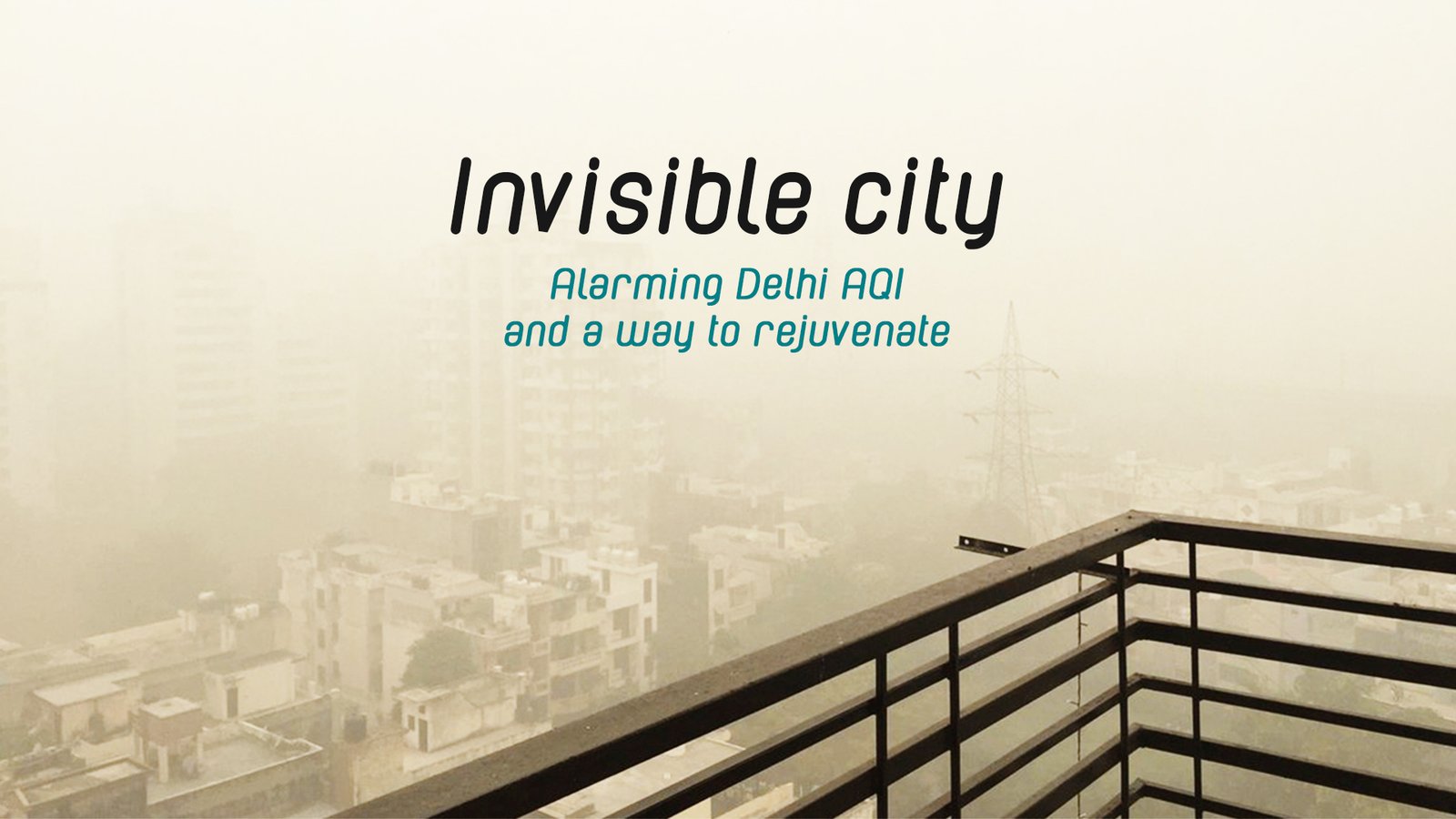 A lost city – The Indian capital seemed to be lost inside layers and layers of thick smog, (Smoke and Dust Particles laden Fog is Smog) a by-product of just human existence – something that we'll look into later in this blog. These thick torrents of smog haunt the population of the capital forcing them stay inside, wear masks and feel a shudder of fear when even the mere thought of going out of the house gets through the mind. Despite the early morning showers in Delhi and pretty strong winds, the polluted envelope of air didn't budge. There were measures taken-rather drastic ones to battle the pollution and to protect the very people who had caused this amount of pollution.
The Plight of the Capital and its People
Here are some of the measures that were taken to control the pollution as well as to protect the people from the pollution.
Schools were ordered to close.
All Generator sets were instructed to be stopped unless at hospitals and other places of emergencies.
The odd – even vehicle system that has vehicles running on alternate days has been enforced again.
People were advised to avoid stepping out of their homes.
Working professionals were asked to 'Work from Home' as much as possible.
Various cleaning measures such as vacuum cleaning of roads, sprinkling of roads with water to prevent dust from rising up and so much more.

No city of such importance to the nation, like Delhi should face this plight. People being forced inside by something that they themselves have created – this is the plight of Delhi, and this could be the plight of other cities too soon.
The Science about Air Quality and its Index (AQI)
This entity of doom that Delhi is haunted by actually measured by this metric called the 'Air Quality Index' (AQI). This 'AQI' is the measure of how polluted the air actually is. The higher the AQI, the worse the pollution is.
The two main pollutants for which AQI is measured against is PM10 and PM2.5 (Particulate Matter with sizes of 10 and 2.5 micrometers respectively). The PM10 and PM2.5 comprises Soot, Smoke, Metals, Nitrates, Sulphates, water, dust and rubber. This Particulate matter spread faster, from dust, burning of fuels and materials and construction. Here is the hierarchy of AQI and the inference.
0 – 50 is good
51 – 100 is Moderate
101 – 150 is Unhealthy for sensitive groups
151 – 200 is Unhealthy
201 – 300 is Very Unhealthy
301 – 500 is Hazardous
>500 is Severe +
The overall AQI of Delhi, as recorded at 5.30 am on the 3rd of October, 2019, was 447, which is officially the worst in 3 years since 2016. The AQI monitors in places in and around Delhi such as National Capital Region (NCR), Noida, Greater Noida, Ghaziabad and Gurugram showed alarming high AQI readings between 490-500. Some places in and around New Delhi had AQI that shot up to a bizarre 900+, giving its people a taste of 'Apocalypse'.
The Reasons behind and Impact of Delhi AQI issue
Some of the biggest reasons behind this much of pollution is
Overpopulated Demography
Ever increasing Vehicular population and Emission
Massive Industrial Activities
Excessive Construction activities to accommodate the demography
Agricultural stubble burning, which now accounts to above 10% of the PM.
Heavy metal laden fire crackers. (Especially during Diwali and New Year's Day)

What this much of Population caused by PM is Irreversible Lung Damage, low immunity, increased risks of cancer, epilepsy and diabetes, headaches, etc. These form just the tip of the iceberg. Other problems may include various accidents caused by poor on-road visibility. The closure of schools and institutions destructs the education of students, and people forced to stay indoors can affect the socio-economic status of the city.
Long term Solutions for the Declining Air Quality
There are many iterations and re-iterations of this message to people from the time when pollution was actually acknowledged by mankind – to do everything we can to reduce pollution. Some of these measures could be
Reduced and economic usage of pollutant resources such as fuel, electricity, gases, etc.
By embracing eco-friendly ways as much as possible
By promoting Afforestation - Forests and greenery do make the difference.
Delhi Air Quality Index issue – An immediate solution in front of Delhiite's
Constant exposure to such toxic environments of the cities, like Delhi and others isn't really good for good health – one needs to hit refresh once in a while in a peaceful environment, amidst fresh air, and Natural, eco-friendly environment. Where could we find such an environment in a developing country like India, with aggressive industrialization all around? At the hill stations of India.
Hill stations are generally governed by stricter laws than the plains. This is because the hill station eco-system is more fragile and delicate and would crumble down even with the slightest amount of pollution. Thus there is no room for Pollutants for hill station.
India is a country blessed with numerous hill stations all around. Many hill stations in Uttarakhand and Himachal Pradesh are having quick access from Delhi - They are the apt destination for a relief from the air pollution for the Delhi city dwellers who can afford to work from home and for the health affected peoples to rejuvenate quickly. You will be surprised to know the price of property in Rishikesh, Dehradun, Mussoorie, Nainital, Almora, Solan, Shimla, Kullu Manali and other hill stations close to Delhi as they are much lower than the property price in Delhi comparatively. The digital transformation in real estate by property portals and arrival of hill station exclusive real estate portals like Hills & Wills made easier to find / buy property in hill stations not only closer to Delhi but across India.
The trend of owning a second home / house in Rishikesh, Dehradun, Mussoorie, Nainital, Almora, Solan, Shimla, Kullu Manali, etc by the Delhiites has already started – It will be accelerated soon upon completion of the high way projects which will drastically reduce the travel time from Delhi to it and also enhance road safety.
#DelhiAirQuality #DelhiPollution