Guidelines for NRI Buying Property in India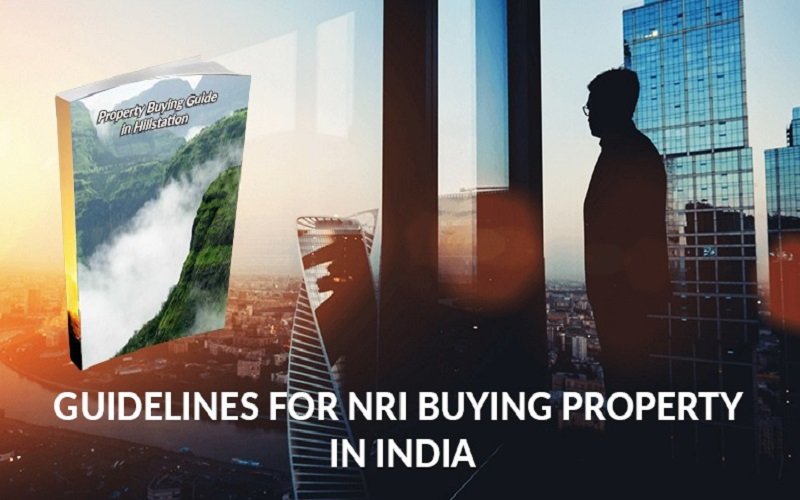 NRI Investment in India
Buying property in an unknown territory can be a challenging task. This is most often true for Non-Resident Indians (NRIs)who wish to purchase a property in India. Though the Reserve Bank of India (RBI) has eased norms with respect to buying property, the purchase process can still be daunting for NRIs. For this very reason, some prefer to hire an agent/broker to carry out tasks such as site visit, valuation, documentation and property registration. Whether the process is carried out by self or the agent, the basics of property buying remain constant and can be laid down as indicated below
1.Preparing a property checklist
Although it may seem basic, this step defines the ultimate intentions of the buyer. It can so happen that there are a number of parameters that NRIs are looking in a property. Without creating a checklist, buyers can be misguided in choosing the right property fit. Thus, as first step NRIs must chalk out a checklist that contains all necessary features of the property like property type, location, size and amenities. In case the property is to be built newly, having a checklist also helps identify any deviations from the original building plan.
When it comes to hill station property, additional parameters like property view, climate, access way, water source, surrounding plantations, desired facilities (in a hill station) must be incorporated into the checklist. As hill station properties are different in these respects from other properties, this step is crucial.
Researching on the builder
It is advised that NRI real estate buyers check the builder credentials before choosing a property from them. A primary research can be made using the internet. Builders often have descriptive websites about their current and completed projects. It is important that the NRIs go through this information. If the project is under construction, it is important to check it is registered under Real Estate Regulatory Authority (RERA). By looking into customer testimonials, NRI can assess the builder's service capabilities. As a further step, NRIs can contact the builder for references of existing / past customers. By talking to them, a clear picture can be obtained.
When it comes to hill station properties, it is common that builders work on individual properties as against apartments or big projects in plains due to stringent construction norms. In such a case NRIs can take the help of a local professional agency to assess the builder in terms of construction quality, site climate, real estate pricing in that locality and builder credibility, etc.
Physical site visit
Investing in a property typically involves considerable amount of money. It is always necessary that the property is physically inspected before making the purchase. This is to ensure that the investment is directed to the desired property. Although technological advancements have made it possible to view properties virtually, in our opinion, physical visits reveal the exact status of the property in terms of quality of construction and existing amenities. If the project is under construction, it is more so important for NRIs to visit the property to ascertain the construction milestones at varying stages.
In the case of hill station properties, the potential buyer has to make a mandatory visit to experience the climate of the hill station. This will give insights about the living conditions of that place. It is better to avoid sending representatives (friends or relatives) for site visit who may give a negative feedback to you on a really worthy property for their hidden interest to offer a different property through their source to gain some monetary benefits. Moreover it is always wise to visit the hill station property in person, because dream varies person to person - a property view might be a perfect match to your dream but it need not to be impressive to your representative.
Registration process
This is the final step in the purchasing the property. The ultimate owner of the property will be the NRI. However, the registration process can consume a lot of time and money if the NRI has to visit India. Instead, an NRI can nominate a Power of Attorney (POA) who will carry out the registration process on their behalf. The POA will be a legal representative.It is important that a reliable person is appointed as the POA. They can be family members, friends or colleagues. By executing a Special Power of Attorney, in favour of the chosen person, NRIs can grant them permission to sign agreements and documents. It must be noted that a transaction specific POA must be executed as against a general / open POA.
What is the process of appointing a POA?
The NRI has to sign the POA document in front of the consulate officer of the Indian Embassy of the city wherever they are situated. A photograph, left thumb impression and signature must be affixed on the document. Post this, the document can be sent to India for adjudication. Once adjudicated, the document can be used to purchase any property in India
In cases where NRIs buy a property under construction, the developer may ask to sign a POA in their favour. This is to quicken the documentation work
5. Documents Required for Registration by NRI
The purchase of property by NRI in India is governed by Foreign Exchange Management Act (FEMA). We have discussed the utility of Power of Attorney (POA). Let us see what other documents the NRI must have for purchasing property in India, in addition to their address proof.
Firstly, the NRI must have an Indian Passport. If they do not hold an Indian passport but hold a passport of another country, they will be asked to furnish their Person of Indian Origin (PIO) card. This card is applicable to people who are a foreign citizen but whose father or grandfather was a citizen of India.
On the other hand, an NRI may be asked to furnish their Overseas Citizenship of India (OCI) card.

This holds good for a person
Who is a citizen of another country, but was a citizen of India at the time of, or at any time after, the commencement of the constitution; or
Who is a citizen of another country, but was eligible to become a citizen of India at the time of the commencement of the constitution; or
Who is a citizen of another country, but belonged to a territory that became part of India after the 15th day of August, 1947; or
Who is a child or a grand-child or a great grandchild of such a citizen
A person who is / was a citizen of Pakistan and Bangladesh are not eligible to apply for an OCI card. Kindly note that the complete information pertaining to the eligibility of OCI card can be obtained from the Bureau of Immigration website of the Indian government.
Both these cards can be applied at the Indian embassy or consulate in one's country of residence.
What about the document required by NRI while selling the property? When it comes to selling property, an NRI must produce their PAN (Permanent Account Number) card. This card is useful while applying for a tax exemption certificate post sale.
Are you an NRI looking for further guidance?
Hill station real estate is a niche but ever green real estate market bundled with many benefits, not many know about it. Hills & Wills has a dedicated team that supports NRI investment in real estate in India. Its team is highly customer centric and has several success stories in guiding NRI buyers.Be it preparing the property checklist, verifying owner credibility, comfortable site visit, or professional advisory. it assists you in any doubt you may have with respect to purchasing a hill station property in India.