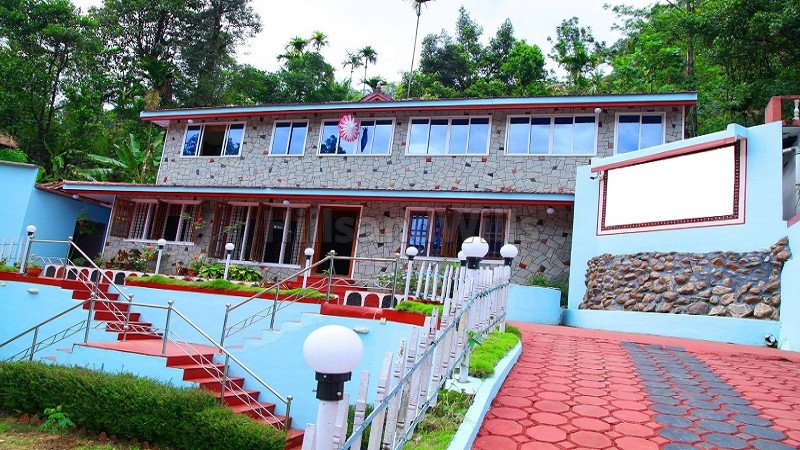 Property Detail
Type
Commercial Property
Status
Sale
Price
₹6.30 Cr
Building Area
4200(sq.ft.)
Parking
8
Transaction
Re-Sale
Ownership
Owner
Property Summary
21 Cents Commercial Property for Sale in Munnar with Operating License – Suitable for resort/Mansion/Holiday Home/ Guesthouse/Private Villa. Introducing a Medium Luxury Holiday Resort with a unique blend of comfort and elegance. This exquisite property in Munnar is located just 15 kilometers away from the renowned hill station of Munnar in Kerala, offering a tranquil escape amidst breathtaking natural beauty. Boasting 9 spacious family bedrooms, this resort provides a bed and breakfast experience on a short-term contract, ensuring guests enjoy a delightful stay with exceptional service and minimum quality standards. Step inside this well-designed G+1 floor building constructed with sturdy concrete and modern interiors. The resort features a total of 9 rentable rooms and 10 bathrooms, providing ample space and convenience for guests. With a spacious lounge and hall, guests can unwind and socialize in style. The property also offers parking facilities for up to 8 vehicles, ensuring hassle-free arrivals and departures. One of the highlights of this holiday resort is its in-house restaurant, capable of accommodating 30 guests at a time. Delight in delectable cuisines available round the clock, making dining a memorable experience for every guest. Additionally, the resort includes a well-equipped kitchen and a store room, catering to the needs of both guests and staff. Practicality meets luxury at this holiday resort, as it features a 3-phase electricity connection and groundwater well on-site, ensuring uninterrupted services and a reliable water supply. Situated beside the Munnar-Kochi Highway (NH 49), accessibility is effortless, making it an ideal destination for business people, tourists, travelers, holidaymakers, and families seeking a memorable vacation.
Additional Information
PROPERTY DESCRIPTION:
Medium luxury Holiday Resort with 9 family bedrooms
Offers bed and breakfast on a short-term contract with minimum quality standards
In-house restaurant facility with a capacity of 30 seats
Building: G+1 floor with modern interiors and concrete structure
Number of Rentable Rooms: 9
Number of Bathrooms: 10
Facility for service staff
Lounge and Hall: 2
Parking facility: 8 vehicles
Dining Facility: 30 Seats
Kitchen: 1
Store Room: 1
Electricity: 3-Phase Connection
Water Source: Ground Water Well on Site
Access to Roads: Property situated beside the Munnar-Kochi Highway (NH 49)
Preset condition: Fully renovated and in good condition
License to operate: Active and current (existing licenses only)
STRENGTHS:
Legal Title: Clear Title with back documents from 1935
Location: 15 Km near Munnar, a prominent hill station in Kerala
Water Source: Abundant supply of pure groundwater on site
Easy Access: Beside Munnar-Kochi Highway (NH 49)
Type of Clients: Business people, Tourist, Travelers, Holidaymaker, Family
Rating Standard: Medium luxury
Food Availability: In-house restaurant 24/7
WEAKNESSES:
Capacity Utilization during the off-season
Trained Staff
Marketing Initiatives
The ratio of Walk-in Customers to Pre-booked Guests
OPPORTUNITIES:
Prominent Hill Station in Kerala
Shortage of decent rooms in the area
Shortage of decent restaurants in the area
opportunity for expansion
CHALLENGES:
Marketing new corporate clients
Online Marketing
Brand Building
Tie up with new travel agencies
Maintaining Quality Standards
The resort's strengths lie in its impeccable legal title of 21 Cents, with clear documentation dating back to 1935, providing peace of mind to prospective buyers. Its strategic location near Munnar offers a prime advantage, attracting visitors who desire a captivating hill station experience. Moreover, the property boasts an abundant supply of pure groundwater, ensuring a refreshing and sustainable resource. The easy access to the highway provides convenience and enhances the resort's appeal to a wider audience. With a rating standard of medium luxury, guests can expect a comfortable and indulgent stay. The in-house restaurant serves as a distinct advantage, guaranteeing a seamless dining experience for guests around the clock.
As with any property, there are some weaknesses to consider. During off-seasons, capacity utilization may pose a challenge. However, with the shortage of decent rooms and restaurants in the area, there is a tremendous opportunity to tap into this demand. To fully maximize this potential, marketing initiatives and trained staff are vital to attract new guests and maintain high service standards. It is also important to focus on improving the ratio of walk-in customers to pre-booked guests, thereby optimizing revenue.
With great opportunities awaiting, this resort benefits from its proximity to the prominent hill station of Munnar. The scarcity of quality accommodations in the area presents a chance to capitalize on the growing market. Additionally, the shortage of decent restaurants further strengthens the resort's potential to cater to guests seeking exceptional dining experiences. Moreover, no new licenses issued by the authorities for commercial ventures within this ecologically sensitive area and hence the existing license holder has a valuable opportunity for leisure business.
While challenges may arise, including marketing to new corporate clients, online marketing, brand building, and establishing partnerships with travel agencies, overcoming these obstacles will pave the way for increased visibility and growth. Maintaining quality standards is crucial to building a reputation and ensuring guest satisfaction.
Property Features
Garden
Hill View
Gated Community
Lawn
Lake View
Furnished
Backyard
Valley View
Power Backup
Fireplace
Water Body View
Lift
Room Heater
Forest View
Gym
Balcony
Wooden Surface
Club House
Attic
Stone Surfaces
Basketball Court
Out House
Brick Surfacing
CCTV
Guest House
Heritage Building
Fencing
Ad renewed on : 13-Sep-2023
Free Listing for Buyer