Buying Mussoorie Vacation Homes – NCR Investors Mustering up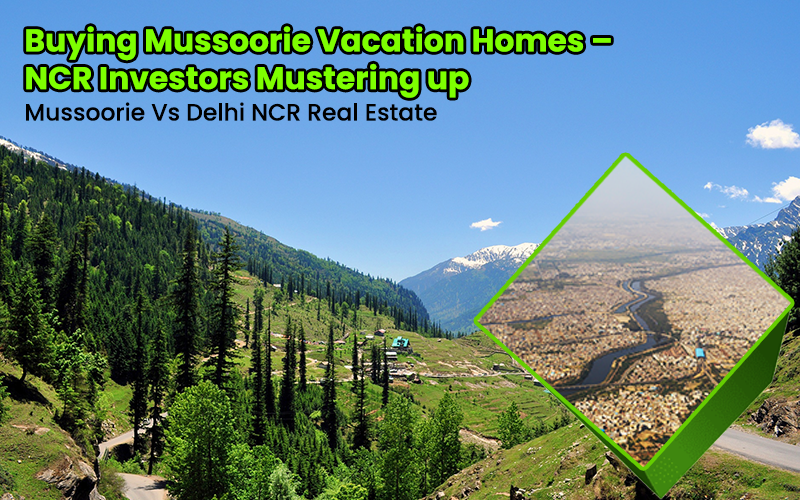 Mussoorie Vs Delhi NCR Real Estate
Battling heat waves and extreme variations of temperature in different seasons, coupled with unsafe rise in pollution has inveigled the residents of Delhi NCR (National Capital Region) to invest in a second home in Mussoorie. At the best, the home up high in the hills also becomes a vacation home with the underlying prospect of renting it out for tourists when unoccupied by the property owners. A property in Delhi NCR requires a huge investment to be bought and except for the advantage of easy commutation to office, the probability of residing in a healthy environment is snowballing to a nought.
The recent development of remote working has changed the mindset to buy a property in Mussoorie instead of blowing out the savings in Delhi NCR cities. The friendly approach and convenient clauses in purchasing property framed by MDDA or Mussoorie Dehradun Development Authority has hastened the buying spree in the hill station. The heightened infrastructure activity in Mussoorie has minimized the gap in terms of facilities available between Mussoorie and NCR if not completely diminish.
This blog gives an insight about comparison between these two real estate markets to understand better based on the online research on 2022 Q1.
House for Sale in Mussoorie Vs Delhi NCR
Any attempt to buy house in Delhi NCR in its upscale neighbourhood would look like paying a fortune at an amount of Rs.30,000/sq.ft or above when the property rate in Mussoorie would be a pale Rs.5000/sq.ft. And at this prevailing market rates investors can also think about buying one more house in Mussoorie. Financial prudence makes it appear a good decision for a paradigm shift in buying properties worth the amount in long term and better rental revenue which is more attractive in Mussoorie due to it's increasing tourists and picking-up home stay concept.
Villa in Mussoorie Vs Delhi NCR
A villa for sale in Delhi NCR is always listed as a hot property where the availability is seen as an offer hard to miss out. For the property rate in Delhi NCR in the bandwidth of Rs.45000/sq.ft to Rs.50000/sq.ft purchasing the villa would necessitate throwing a large sum of money. If the prospective buyers decides to buy a villa for sale in Mussoorie in the vicinity of LBSNAA (Lal Bahadur Shastri National Academy of Administration), the rate tumbles down to just one-fifth of the NCR property price. The buyer also gets the additional favours of an environment with least pollution when compared to the urban agglomeration teaming with crowd and gasping for space.
Flat for Sale in Mussoorie Vs Delhi NCR
Buying flats in Delhi NCR has always caught the fancy of working professionals and other business people as they consider it to be a safe investment. The Delhi NCR flat price has an asking rate of above Rs.10000/sq.ft and with a large repository of properties getting to buy one is not a tough task. What makes way for a thoughtful due diligence is the strain of resources the multi storied buildings exert in the place whereby the allocation of water or common space needs to be utilized cautiously. With a price tag of around Rs.4000/sq.ft buying a flat in Mussoorie is more advantageous taking into the misty weather / ecosystem of the hill station with abundant availability of resources.
Plot in Mussoorie Vs Delhi NCR
A plot for sale in Delhi NCR, even it is in the fringes of the region commands a price of about Rs.9000/sq.ft and the Delhi NCR plot price varies in different areas like Noida, Gurgaon, New Delhi and may stun some of the buyers. In this instance opting to buy a land for sale in Mussoorie costs only around Rs.3000/sq.ft as the land price in Mussoorie is within the affordable range of many buyers and investors.
Farm House in Mussoorie Vs Delhi NCR
A farm house for sale in Delhi NCR requires a payment of above Rs.8000/sq.ft. Factoring in other buildings or the air quality index a farm house for sale in Mussoorie at about Rs.1500/sq.ft is an absolute delight. Realizing the evolving trend real estate companies and builders in Delhi NCR are gung-ho about huge land parcels in Mussoorie for future development.
Over and above, owning a Mussoorie property with awesome view is treated as a social status in addition to summer retreat or safe home during poor air quality index in Delhi NCR. The interest to invest in Mussoorie is accelerated due to the upcoming Delhi – Dehradun express way which will drastically reduce the drive time from Delhi NCR to Mussoorie and this will change the vacation / summer home concept to week end home in Mussoorie in the near future for sure.
Want to Explore Mussoorie Real Estate?
Hills & Wills has buttressed its position as the best property listing site for hill station real station including Mussoorie. It is unique in the online property portal Industry where Mussoorie property owners / builders can post property ad for free with highest validity and thereby save huge advertisement cost. The real estate agents / builders in Mussoorie also prefer hillsandwills.com for its reach beyond boundaries, provision to post multiple property Ads at free of cost, business model to provide quality leads alone rather than quantity and sell property online fast. Thus it is becoming the largest listing of Mussoorie properties for sale or rent and thereby favourite choice of buyers to buy property in Mussoorie.