Property Rates in Kotagiri vs. Major Cities in TamilNadu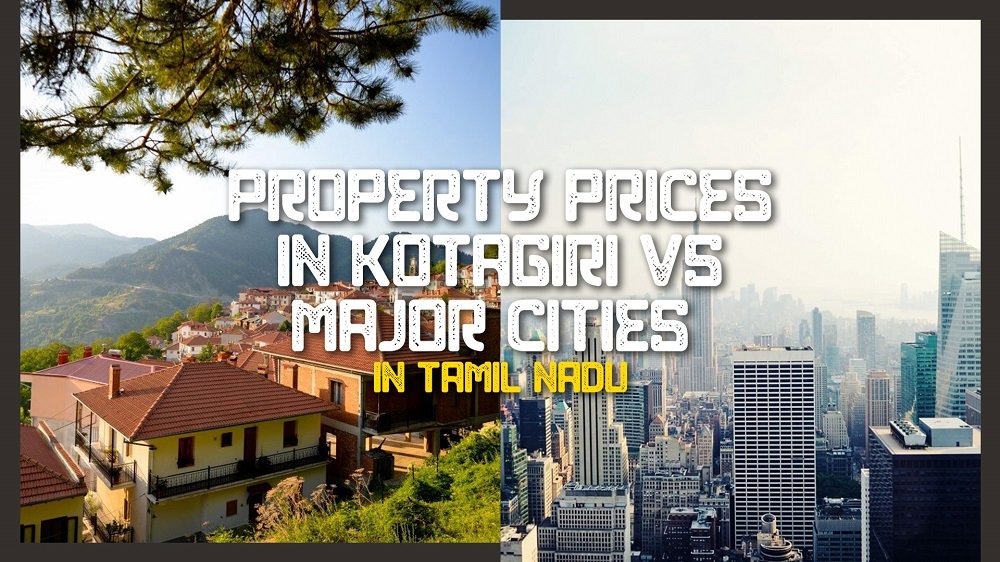 Why to invest in Real Estate in Kotagiri?
Kotagiri may seem a less popular hill station, in this blog we are to break that myth. Let us look into some quick facts about this place & explore its real estate scenario
Kotagiri - things to know
Kotagiri is located at a distance of 28.6 km from Ooty
Its elevation is 1847m or 6060 ft
The average temperature of Kotagiri is 16 °C
The name Kotagiri literally means the hill of Kota tribes
It is a taluk and town Panchayat in the Nilgiris district
The town Panchayat comprises of 14 villages
Prior to the construction of the Ghat road from Mettupalayam to Ooty, every visitor had to pass through Kotagiri to reach Ooty!
Kotagiri Tourism – Top 5 places to visit
Catherine falls
This double-cascaded waterfall is named after the wife of M.D. Cockburn, who is believed to have introduced coffee to Kotagiri. Falling from an altitude of 250 ft, this beautiful fall never fails to captivate the beholder. It is possible to trek up to the top of the fall while witnessing lush green landscapes
Elk falls
This waterfall is situated at a distance of 7 km from Kothagiri. The trekking path to the top of the fall is amidst tea and coffee plantations. The falls gives the opportunity to click wonderful pictures of nature. There is also an ancient European house built around 1819, near the falls.
Doddabetta range
This is the highest peak in the Nilgiri hill range, standing at an elevation of 2637m (8652 ft). The name Doddabetta literally means 'Big mountain' in Baduga language. The peak is famous as a viewpoint. A telescope house has been constructed for visitors to see a panoramic view of the surroundings.
Rangaswamy peak and pillar
This tourist spot is located at a distance of 20 km from Kotagiri. The conical peak stands out at an elevation of 1794 m (5885 ft). Rangaswamy pillar is an isolated pillar located on the northwest side of the peak. It has an altitude of 400 ft. The majestic sight of Rangaswamy peak and pillar is a must see!
Kodanand view point
This view point is located at 18 kms from Kothagiri. It is famous among car riders as it offers amazing views throughout the way. One can see tea estates and Moyar river from the top. The bird's eye view of Rangaswamy peak and pillar is a feather on the cap of this mesmerising spot.
Property price in Kotagiri - How does Kotagiri perform as a real estate?
Apart from being an aesthetically appealing tourist place, is there more to Kotagiri? The answer is Yes! Kotagiri is a growing real estate market. In order to understand facts, let us compare Kotagiri with major cities in TamilNadu. The cities in TamilNadu and areas under consideration are as shown below. The real estate prices in these areas, will be compared with average property prices in Kotagiri
Chennai - Anna Nagar
Madurai - Anna Nagar
Trichy - KK Nagar
Coimbatore - RS Puram
The unit is in Rs. / sq. ft
Residential land prices in major cities vs. land for sale in Kotagiri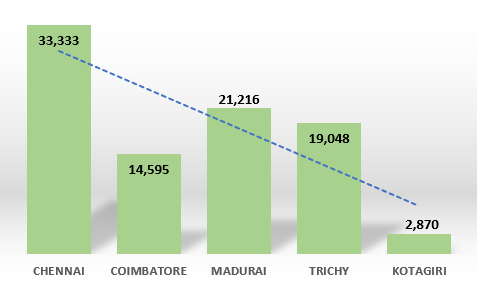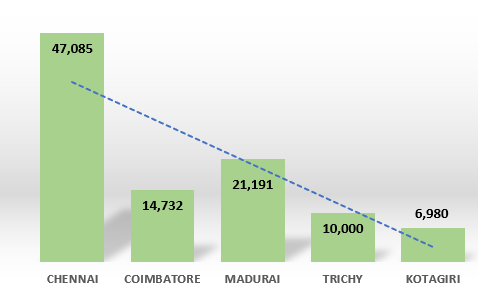 Farm house for sale in Kotagiri vs. farm house for sale in Chennai
The concept of farm houses is specific to big metros and places with scenic beauty. Hence, we are comparing Chennai with Kotagiri in that order. The areas people invest in farm houses are varied and hence average prices are given below for a comparison.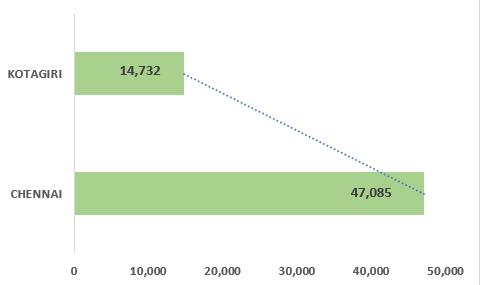 Observation and Conclusion
Kothagiri is the most affordable option for residential plots and independent houses among the cities compared. When compared with the priciest city (Chennai), the prices in Kothagiri are
Land / Residential plot – only 12% of the cost
Independent house / Villa for sale in Kotagiri – only 7% of the cost
Talking of farm houses, the average prices in Kotagiri are only 31% of those in Chennai.
In present day scenario, a lot of people desire to retire in small towns. The reasons are aplenty. For some, it could mean going back to their roots, for others it could mean venturing into a new phase of life away from the hustle-bustle of big cities. While choosing a location, most people are looking for a place with scenic beauty. This is to live life as close to nature for psychological benefits. You might not be surprised if I said Hill stations are gaining popularity as retirement locations but what might surprise you is how affordable these places really are! Kotagiri is one such place, so why wait? Invest in this market that is growing steadily. Exclusive properties available on Hills & Wills