Property Prices in Coonoor Vs Major cities in Tamilnadu Why to invest in real estate in Coonoor
If you are looking for a hill station property that suits your budget, you are at the right place. Read along to understand property price trends, in Coonoor and other major cities of TamilNadu. Why Coonoor you ask? You will get answers in the end of this blog!


Coonoor Facts
• Coonoor comes under the Nilgiris district of TamilNadu
• It is situated at a distance of 20.2 km from Ooty
• It is both a Taluk and a municipality
• It has an altitude of 1850 m or 6,070 ft
• Tourism sector is a major contributor to Coonoor's economy
• The world famous Nilgiris mountain train runs through Coonoor
• Coonoor's geography is segregated as upper Coonoor and lower Coonoor


Coonoor Tourism – Top 5 places to visit
• Sim's Park
This park is a perfect place for a family picnic. Spread over 12 hectares and designed partly in Japanese style, this park dates back to 1870's. It hosts an annual fruit and vegetable show that is quite popular among tourists

• Highfield Tea factory
This 50-year-old tea factory is situated 2 km to the north east of upper Coonoor. It offers visitors a complete demonstration of tea processing. Tea lovers will like this place for the different flavours of tea it has to offer

• Droog's Fort
This historical site is located at 15 km from Coonoor. Many tourists hike through beautiful tea estates to reach the remnants of this 18th century fort. It is interesting to note that this fort was used by Tipu Sultan

• Lamb's rock
This photogenic view point is at a distance of 7km from Coonoor. It offers an enchanting view of the surrounding estates and Coimbatore plains. Many people flock here to witness the charm of sunrise and sunset

• Dolphin nose viewpoint
This is yet another famous tourist spot located at a distance of 12 km from Coonoor. It has an altitude of 5075 ft. The tip of this peak resembles a dolphin's nose and hence the name. This spot offers a captivating view of the valleys and Catharine waterfalls

It is no doubt that Coonoor's scenic beauty is captivating and it attracts tourists from all over the world. But what about people who want to buy a property in Coonoor? How does Coonoor perform as a real estate market? Let us look into some figures to understand


Property price in Coonoor

The cities in TamilNadu and areas under consideration are as shown below. The prices in these areas, will be compared with average property prices in Coonoor

• Chennai - Anna Nagar
• Madurai - Anna Nagar
• Trichy - KK Nagar
• Coimbatore - RS Puram

The unit is in Rs. / sq. ft
Residential land prices in major cities vs.land for sale in Coonoor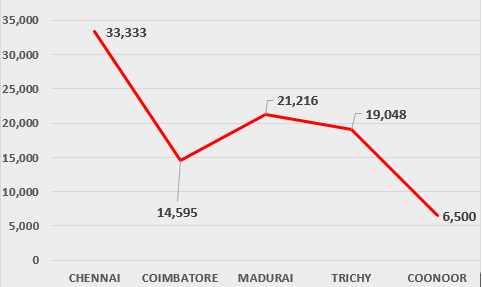 Builder floor prices in major cities vs.builder floor price in Coonoor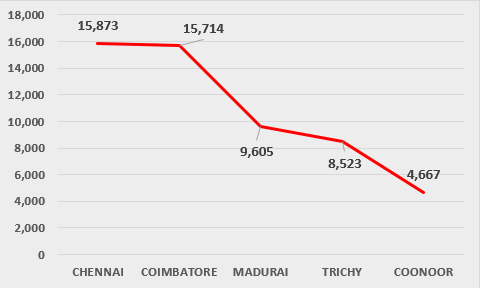 Independent houses / villa prices inmajor citiesvs. Coonoor
Independent house for sale in Coonoor / Villa for sale in Coonoor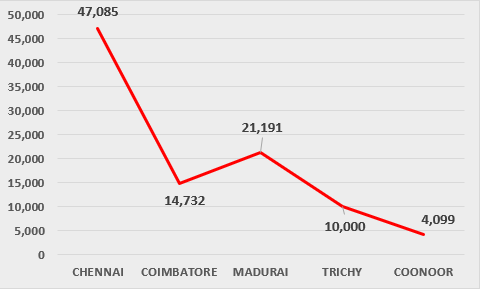 Conclusion:
Coonoor is the most economicaloption when it comes to residential plots, builder floor and independent house.
When compared to the priciest city, the are

• Residential plot price - 20% of the price in Chennai
• Builder floor price -29% of the price in Chennai
• Independent house /Villa - 9% of the price in Chennai

Coonoor is a nature lover's haven. With its beautiful valleys, estates and waterfalls, Coonoor is one of the best places to live in, if you wish to stay close to nature. Coonoor is close to Ooty yet has a cosier climate. The average yearly temperature in Coonoor is around 16.8 °C. The healthcare infrastructure in Coonoor is quite evolved. The environment in Coonoor is serene and there are a lot of real estate options available. If you are looking to invest in a second home for a getaway or a permanent retirement home, consider Coonoor!